2017 Donald Trump Presidential Bop Bag and Bonus Putin Whoopie Cushion
$91.00
Year: 2017
Manufacturer: 1st Dog
Condition: Mint condition
First edition vintage collectable
No longer available for sale, this is a collectable part of American history. There's never been a more controversial figure than the current President, Donald Trump. His motto is when someone punches, he punches back twice as hard. With the Donald Trump Presidential Bop Bag, now you can punch back again and again. This is a 48″ tall professionally drawn caricature of Trump drawn by artist Sheila Zwettler, in full color, both front and back.
The bop bag is a dual chamber design. Fill the upper chamber with air, and fill the lower portion with sand or water to weigh it down. Give it a punch and it pops right back up for more! When he goes low, you go high! Trump-based humor on the packaging makes this a hysterical historical collectable.
INCLUDES FREE BONUS: Pootin' Putin Whoopie Cushion. 6″ diameter limited editon collectable. Sit on his face and he farts (in Russian).
Photos are of of actual item. Climate controlled storage and minimally handled. Sold as is. Limited number available.
2 in stock
Here's some other cool stuff you might like...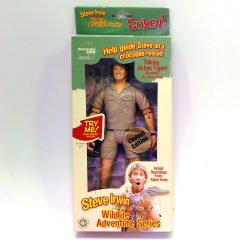 2006 Steve Irwin Talking Figure in Package
Year: 2006
Manufacturer: Wild Republic
Condition: Mint condition figure in good condition package
First edition vintage collectable
CRIKEY! It's an original talking Steve Irwin figure! Steve died tragically in 2006 while his wildlife adventure series was at the height of popularity. The show hilighted the importance of wildlife and wilderness conservation.
ThIs is a nicely detailed 9″ figure of Steve wearing his classic Aussie outfit, articulated at the arms, elbows, wrists, and legs, and his head swivels. Press either one of the two "pocket buttons" and the figure speaks using Steve's actual voice. There are two speaking modes: Mode 1 speaks 8 of Steve's most popular phrases. "We work hard saving endangered animals." "Goodday I'm Steve Irwin." "Whatta ripper!" "Crocs rule!" "Danger Danger Danger" Wooeey!" "Crikey!" and "What a beauty!" Mode 2 has Steve narrating an adventure, during which he asks for you to help him choose a direction to take by pressing either pocket 1 or pocket 2. It was very unique interactive action for it's time! See the video link below. The figure has a clear strong speaking voice, and comes with batteries installed. It can speak without removing from the box.
The package measures 12″ x 6″ x 1 /34″ and is in good shape with some light edge wear. See photo details. It features photos and drawings of Steve and the figurine. This figure has all the original pieces, including the plastic tray insert, instruction sheet, and background cartoon diaorama. The figure was only removed from the package to take photos and video. Photos are of of actual item. Climate controlled storage and minimally handled. Sold as is. Only one available.
———————-
SYDNEY, Australia (CNN) September 4, 2006. Steve Irwin, the TV presenter known as the "Crocodile Hunter," has died after being stung by a stingray in a marine accident off Australia's north coast. Media reports say Irwin was diving in waters off Port Douglas, north of Cairns. Irwin, 44 was killed by a stingray barb that went through his chest, according to Cairns police sources. Irwin was filming an underwater documentary at the time.
$

79.00
Add to cart