2017 Donald Trump Presidential Bop Bag and Bonus Putin Whoopie Cushion
$91.00
Year: 2017
Manufacturer: 1st Dog
Condition: Mint condition
First edition vintage collectable
No longer available for sale, this is a collectable part of American history. There's never been a more controversial figure than the current President, Donald Trump. His motto is when someone punches, he punches back twice as hard. With the Donald Trump Presidential Bop Bag, now you can punch back again and again. This is a 48″ tall professionally drawn caricature of Trump drawn by artist Sheila Zwettler, in full color, both front and back.
The bop bag is a dual chamber design. Fill the upper chamber with air, and fill the lower portion with sand or water to weigh it down. Give it a punch and it pops right back up for more! When he goes low, you go high! Trump-based humor on the packaging makes this a hysterical historical collectable.
INCLUDES FREE BONUS: Pootin' Putin Whoopie Cushion. 6″ diameter limited editon collectable. Sit on his face and he farts (in Russian).
Photos are of of actual item. Climate controlled storage and minimally handled. Sold as is. Limited number available.
2 in stock
Here's some other cool stuff you might like...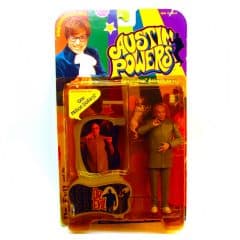 1999 Austin Powers Ultra-Cool Talking Action Figure Dr. Evil and Mr. Bigglesworth in Package
Year: 1999
Manufacturer: McFarlane Toys
Condition: Mint condition
First edition vintage collectable
It's Austin Powers arch villian Dr. Evil in a rare orange tinted blister package. The first movie is now over 20 years old and original figures are becoming more and more collectable. This package features a 6″ tall Dr. Evil and his cat, Mr. Bigglesworth. Comes with a money packet labelled '$1 million'. Dr. Evil says his most famous catch phrase, "One million dollars!"
The package is in very good condition. The upper right corner has a small scratch on the front, a wrinkle in the cardboard about an inch long on the back, and there is slight shelf wear on the bottom corners, but overall it's in really good shape. Austin is about 6" tall, and in his original packaging, which is in mint condition. Mike Meyers provides the voice, which is in the base. The tab has never been pulled.
Photos are of of actual item. Climate controlled storage and minimally handled. Sold as is. Only one available.
$

59.00
Add to cart