1999 Minnesota Governor Jesse Ventura 12" Action Figure in box
$59.00
Year: 1999
Manufacturer: Formative Intl. Co. Ltd.
Condition: Mint condition figure
First edition vintage collectable
Who would ever think a Governor from Minnesota would have his own action figure? California's Governor maybe, but Minnesota? When your previous career was as a professional wrestler and movie actor, anything is possible, right Arnold? Jessie had a role in the 1987 Schwarzenegger movie Predator, before serving as Minnesota's 38th Governor from 1999 to 2003.
This is a unique collectable and probably helped get Jesse elected. The Ventura action figure was sold to help raise money and awareness of the candidate during the election. The quality is amazing, with a good likeness of Ventura, wearing a black suite, white shirt and tie and is fully articulated. He's never been removed from his box except to photograph.
The box is in near mint condition and measures 13" x 6 1/2" x 3". The box is a window design which opens up to a big picture and logo of Jesse.
Photos are of of actual item. Climate controlled storage and minimally handled. Sold as is. Only 2 are available.
2 in stock
Here's some other cool stuff you might like...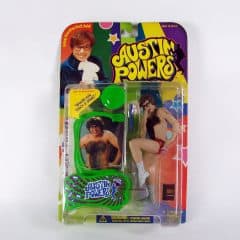 1999 Austin "Danger" Powers Ultra-Cool Action Figure v.2 "Shag" in Package
Year: 1999
Manufacturer: McFarlane Toys
Condition: Mint condition in mint package
First edition vintage collectable
Here's the "alternate" Austin Powers figure and packaging. Like the other version of this figure, it also made the news in 1999 when some found the text on the package and the randy phrases a little too "adult" for children. There were multiple versions. This one has Austin saying "Would you fancy a shag?" on the front, and includes a sexy dictionary, along with a mirror The martini glass and olive stirrer were very small parts and were removed from this version because of the choking hazard. This is the second version, which was supposed to be more "tame" than the first version, which had Austin asking "Do I make you horny baby, do I?" (see other model by clicking here).
Austin is about 6" tall, and in his original packaging, which is in mint condition. Mike Meyers provides the voice, which is in the base. The tab has never been pulled on either version, so it should speak when removed, but it's not guaranteed. (Why would you ever open it anyway baby?)
Photos are of of actual item. Climate controlled storage and minimally handled. Sold as is. Only one available.
$

69.00
Add to cart