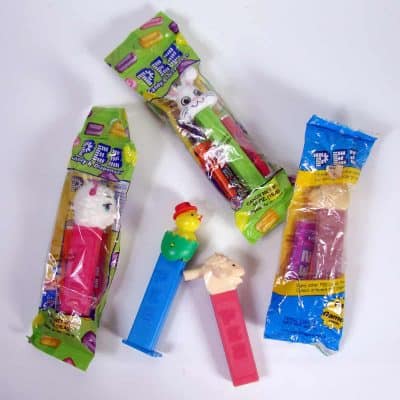 1990's PEZ Dispenser Collection Set of 18
Year: 1990's
Manufacturer: Pez
Condition: Good to excellent condition
First edition vintage collectables
Become an instant PEZ collector with a variety of classic PEZ dispensers. Star Wars, Toy Story, Bart Simpson, Wonder Woman, Batman and more. Standard size 4" to 5" tall with fun colorful characters. A majority are in their original packages. Packaged dispensers include 2 or 3 PEZ candy wafers. A total of 18 fun PEZ dispensers.
Star Wars Darth Vader in package
Star Wars Chewbacca open
Toy Story Buzz Lightyear in package
My Little Pony Rainbow Dash in package
Bart Simpson in package
Finding Dory in package
Finding Dory Nemo in package
Wonder Woman open
Batman open
Santa in package
Elf in package
Penguin in package
Valentine heart in package
Bunny rabbit in package
White lamb in package
Pink lamb in package
White lamb with whistle open
Hatching chicken in egg open
Photos are of of actual items. Climate controlled storage and minimally handled. Sold as is. Only one set available.
$

69.00
Add to cart