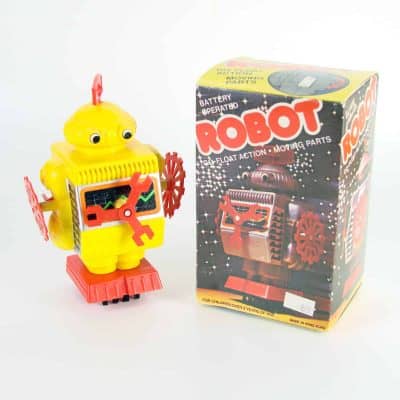 1970's Brushy the Floating Robot in box
Year: 1970's
Manufacturer: Unknown
Condition: Very good condition robot
First edition vintage collectable
Here's a novel robot for collectors or just for fun! Brushy the Floating Robot is actually a made up name, because the package says just "Robot" which is not very clever. Brushy is about 5 1/2″ tall, has a radar dish on his head, wheel gears for arms, and a 3 arm wrench on his chest. His most unique feature is his feet. Instead of wheels or legs, Brushy has (let's say it together) BRUSH for feet! They're basically bristles like you'd find on a hairbrush. So how does a robot with brushes for feet move? Flip the switch and Brushy starts vibrating and floating around.. See video below.
The box is 3 1/2″ x 3″ x 5 1/2″ and is in good condition, no rips or tears, just some aging and shelf wear.
Photos are of of actual item. Climate controlled storage and minimally handled. Sold as is. Only one available.
$

94.00
Add to cart