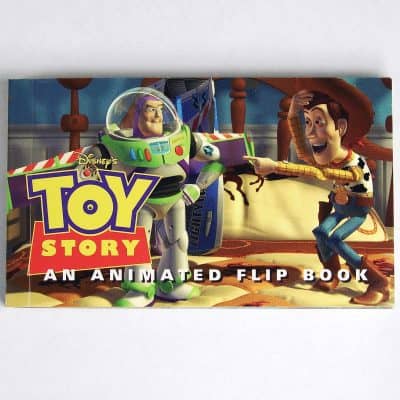 1995 Toy Story Animated Flip Book, Collector Card Packs & Nestlé Bar Wrapper Set
1995 Toy Story Animated Flip Book, Collector Card Packs and Nestlé Chocolate Bar Wrappers in mint condition
1995 Toy Story Animated Flip Book mint condition
Manufacturer: Hyperion Books
Condition: Mint condition
1995 Toy Story Collector Card packs in mint condition
Manufacturer: Skybox International
Condition: Mint condition
1995 Toy Story Nestle Limited Edition Milk Chocolate Bar Wrappers in mint condition
Condition: Mint condition
First edition vintage collectables
Here's a mix of printed Toy Story collectables from 1995. These are items that rarely survive over the years, and are perfect for the true Toy Story collector.
1. Rare Toy Story 50 page flip book with two different scenes from the movie. One side features Buzz Lightyear taking flight. Flip it over and watch Woody and his famous laugh. Fun full color images right from the movie. 3" x 5" size, 5/16" thick.
2. 2 Toy Story card packs, each with 16 cards per pack. Features real images taken from the movie. Each card pack includes 3D construction cards, pop-out cards, puzzle card and a badge card. Printed on heavyweight card stock and glossy finish. Never opened. 2 1/2" x 3 5/8" cards, 16 per pack, includes 2 packs.
3. Plus a very rare collectable which most people threw away. Original wrappers from the Nestlé Toy Story Limited Edition Milk Chocolate Bar. The chocolate is gone, but the original wrapper and gold inner foil are in perfect condition. The wrapper says "At a Theatre Near You!" 3 wrappers with inner gold foil, 2 more with jut the outer wrappers in mint condition. 5 1/4" x 2 3/4" 3/8" bar size.
Photos are of of actual items. Climate controlled storage and minimally handled. Sold as is. Only one set available.
$

28.00
Add to cart