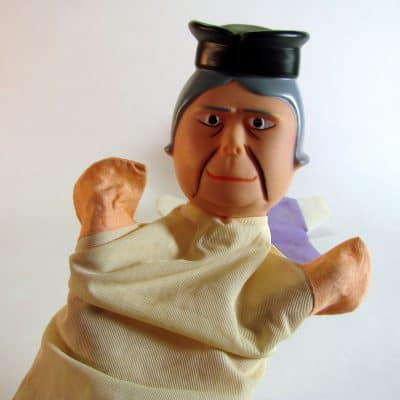 1960's French Hand Puppets: Queen and Thief set of 2
Year: 1960's
Manufacturer: Unknown
Condition: Very good condition
First edition vintage collectables
This is a pair of molded vinyl and nylon polyester hand puppets. This type of hand puppet was very popular in the 1950's and 60's, usually featuring a King and/or Queen and various members of their Royal Court. The origins are unknown, but they have a look reminiscent of "Punch and Judy" style puppets.
The Queen and the thief are made of 4" tall blowmold vinyl painted heads. Including their outfits, they are  both are 12" overall length. Everything is original, except string attaching the outfits to the heads has been replaced.
Photos are of of actual items. Climate controlled storage and minimally handled. Sold as is. Only one set available.
$

37.00
Add to cart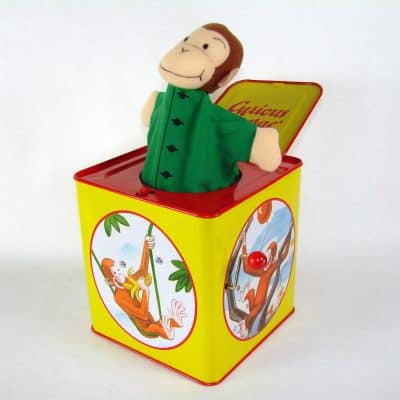 1995 Curious George in the Box in Package
Year: 1995
Manufacturer: Shylling
Condition: Mint condition in near mint package
First edition vintage collectable
It's a Curious George pop-up style classic musical toy. No motors, no microchips, just good old fashioned mechanical engineering. Turn the handle to play Pop Goes the Weasel. Then, just like a classic jack-in-the-box, a plush Curious George pops up! Push him back in and close the lid to start the fun again! 5 3/4" x 5 3/4" x 6 1/2" metal box with classic Curious George art on each side. Works perfectly. No dents or scratches.
The outer packaging is in almost mint condition, with a slight crease in the cardboard lid and a small corner ding on the bottom back of the package. 5 1/2" x 6 1/2" x 6".
Photos are of of actual item. Climate controlled storage and minimally handled. Sold as is. Only one available.
$

47.00
Add to cart