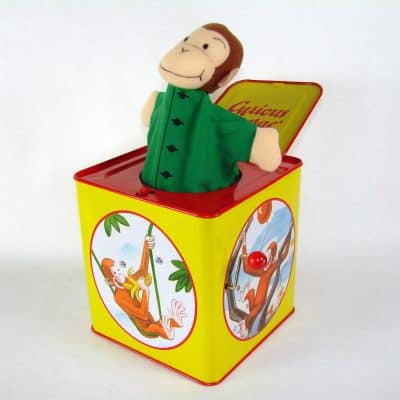 1995 Curious George in the Box in Package
Year: 1995
Manufacturer: Shylling
Condition: Mint condition in near mint package
First edition vintage collectable
It's a Curious George pop-up style classic musical toy. No motors, no microchips, just good old fashioned mechanical engineering. Turn the handle to play Pop Goes the Weasel. Then, just like a classic jack-in-the-box, a plush Curious George pops up! Push him back in and close the lid to start the fun again! 5 3/4" x 5 3/4" x 6 1/2" metal box with classic Curious George art on each side. Works perfectly. No dents or scratches.
The outer packaging is in almost mint condition, with a slight crease in the cardboard lid and a small corner ding on the bottom back of the package. 5 1/2" x 6 1/2" x 6".
Photos are of of actual item. Climate controlled storage and minimally handled. Sold as is. Only one available.
$

47.00
Add to cart