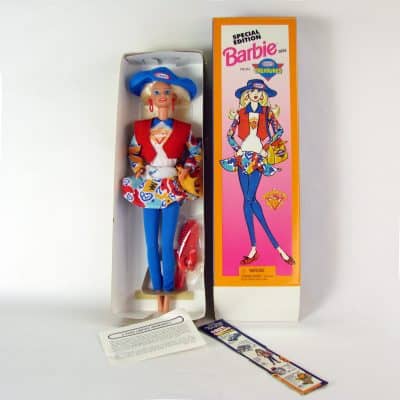 1992 Barbie Doll Special Edition by Kraft in Box
Year: 1992
Manufacturer: Mattel
Condition: Mint condition
First edition vintage collectable
This is a rare Barbie from 1992 released as a dual promotion with Kraft Macaroni and Cheese, when mac and cheese only came in a paper box. Consumers collected box top "points" to send away for Barbie. She was the highest valued premium at 220 points, which meant eating a lot of boxes of macaroni and cheese!
Still in the original mailer box and never removed from her custom packaging, 12" tall Barbie is decked out in early 90's fashion to the max! Her outfit includes a floppy hat emblazoned with the Kraft logo, red vest and Cheeseasaurus Rex shirt with matching arm sleeves and skirt, blue leggings, red tennis shoes and a purse. The shoes and her hairbrush are still in their original sealed package. Totally tubular! This is a one time limited promotion featuring this unique Barbie.
Photos are of of actual item. Climate controlled storage and minimally handled. Sold as is. Only one available.
$

65.00
Add to cart