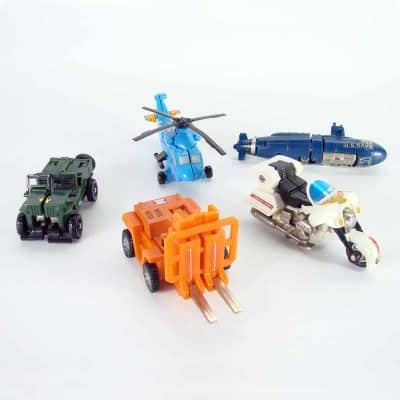 1984 Machine Robo Series – Set of 5
Year: 1984 – Made in Taiwan
Manufacturer: Machine Robo Series
Condition: Good condition
First edition vintage collectable – bootlegs
Dive Dive Blue Submarine C11
Spoons Orange Forklift C12
Harley Robo White Motorcycle C13
Jeeper Creeper Army Jeep C14
Flip Top Helicopter C15
Transformers are the popular vehicle-into-robot characters today, but GoBots were the original, introduced a year before the first Transformers came out. Tonka bought the line from Bandai, originally Popy of Japan. These are five classic first edition vintage collectables:
Dive Dive Blue Submarine #C11
Spoons Orange Forklift #C12
Harley Robo White Motorcycle #C13
Jeeper Creeper Army Jeep #C14
Flip Top Helicopter #C15
Each GoBot is like a puzzle and takes some figuring out to make them work. These are fairly intricate and clever designs, making them very collectable. This set is unnamed, usually referred to as "Robo Series" GoBots.
This set has been used and played with minimally. The Flip Top Helicopter is missing the small rotor and the Flip Top Forklift is missing the console. But otherwise the set is in great shape with original paint and sticker markings.
Photos are of of actual item. Climate controlled storage and minimally handled. Sold as is. Only one available.
$

95.00
Add to cart