Vintage GRAB BAGS are great for serious and casual collectors alike. Each set features a vintage licensed property, and contains a one of a kind mash-up of items from various sources including retail, fast food restaurants and/or other sources. Some items may be in their original packaging. Condition varies depending on item. Makes an instant starter collection for the beginning collector, or a great way to add a number of items to your current collection. A great gift idea!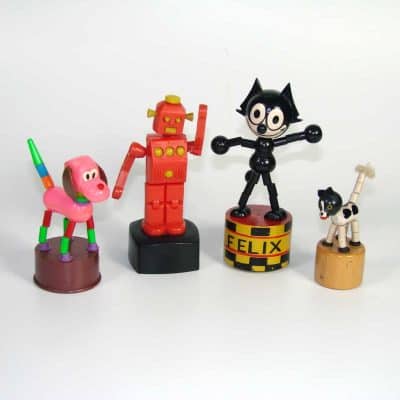 1980's Felix the Cat, Robot, Dog and Cat Push Button Toy Set of 4
Year: 1980's
Manufacturer: Various manufacturers
Condition: Good to very good condition
First edition vintage collectables
Push button toys were very popular at one time and are sought after as collectables from a simpler day gone by. Push the button under the base and make the character sway, dance and fall down, then pop right back up to play some more!. This set of four make a fun collection for the beginner or someone who wants to add to their collection. 
4 1/2" tall Felix the Cat – Made entirely of wood, this is made by FTCP Inc. and has a vintage Felix look.
4 1/4" tall Red Robot – Plastic, made by MT of England
3 1/2" tall Dog – Plastic, made by MT
3" tall Cat – Made entirely of wood, unknown manufacturer
Photos are of of actual items. Climate controlled storage and minimally handled. Sold as is. Only one set available.
$

49.00
Add to cart