Vintage Disney 4 pc. Grab Bag Starter Set 3
$18.00
Year: 1980's to 1990's
Manufacturer: Multiple manufacturers
Condition: Varying from good to very good
First edition vintage collectables
This is a 4 piece set of larger Disney toys, 5" to 6" tall, with a plush Donald Duck, plush Goofy, a poseable Goofy figure, and a Disney scooter shooter from McDonalds. Some items may have been gently played with. A total of 4 fun toys! Makes a great gift!
1 in stock
Here's some other cool stuff you might like...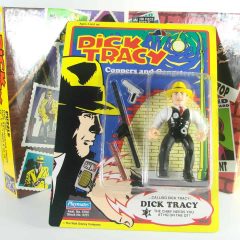 1990 Dick Tracy Figurine & 2 Jigsaw Puzzle Set in Packages
Year: 1990
Manufacturer: Disney Playmates and Western Publishing
Condition: Mint condition items
First edition vintage collectables
This is a 3 piece set of Dick Tracy items from the 1990 movie starring Warren Beatty and Madonna. The figurine of Dick Tracy is 5″ tall with 3 accessories in an unopened blister pack, 8 1/2″ x 11 1/4″ in size.
The puzzles have two different designs and have never been opened, they're still sealed in their original boxes and in great shape. Each makes a 14″ x 18″ puzzle when assembled. Puzzle boxes are 8 1/4″ x 10 1/2″ x 1 7/8″.
Photos are of actual items. Climate controlled storage and minimally handled. Sold as is. Only one set available.
$

27.00
Add to cart