Vintage Disney 34 pc. Grab Bag Starter Set 1
$62.00
Year: 1980's to 1990's
Manufacturer: Multiple manufacturers
Condition: Varying from good to very good
Vintage collectables
It's everything Disney! This is a unique variety of toys both retail and from fast food restaurants, featuring classic Disney characters, including Mickey & Minnie Mouse, Donald & Daisy Duck, and many more. Plus characters like Roger Rabbit, Winnie the Pooh, and more! Look carefully and find your favorites! Most are figurines, but there are some vehicle and other miscellaneous items. Some items may have been gently played with. A total of 34 fun toys! Makes a great gift!
1 in stock
Here's some other cool stuff you might like...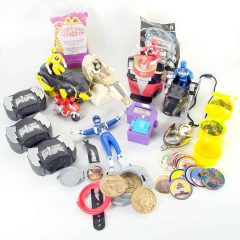 Vintage Power Rangers Grab Bag Starter Set
Year: 1994 and later
Manufacturer:
Condition: Varying from good to near mint
First edition vintage collectable
Celebrate the 25th anniversary of the famous teenage morphers with this collection of everything Power Rangers! This is a mixed set of Power Rangers-themed toys from various kids meal programs from both vintage TV and movie series. The set includes figurines, vehicles, watches and other gadgets as shown.
Also includes a partial box of 13 mint condition unopened packages of 1st series trading cards featuring the original Power Rangers. Each pack contains 7 Power Ranger cards, 1 Power Foil etched card plus a Power Pog Cap. The fronts of the cards feature cast members from the movie and a wide variety of artwork from the movie. The back of each card contains facts, stories, and secret messages to decode. That's 117 cards/pogs in their original box, plus 22 toys for hours of fun- an instant collector set of vintage Power Ranger toys. Makes a great gift!
Photos are of of actual item. Climate controlled storage and minimally handled. Sold as is. Only one set available.
$

77.00
Add to cart