Stay tuned for more!
$0.00
Categories: Gift-Ready Vintage Toys, Vintage Action Figure Collectibles, Vintage Austin Powers Collectibles, Vintage Barbie Collectibles, Vintage Batman Collectibles, Vintage Beetlejuice Collectibles, Vintage Bendee Collectibles, Vintage Celebrity Toys Collectibles, Vintage Comics, Vintage Cowboy Toy Collectibles, Vintage Curious George Collectibles, Vintage Disney Collectibles, Vintage Dolls, Vintage Fast Food Collectibles, Vintage Flintstones Collectibles, Vintage Garfield Collectibles, Vintage Glassware, Drinkware, Dinnerware, Vintage Grab Bags, Vintage Peanuts Collectibles, Vintage Pee-Wee Herman Collectibles, Vintage PEZ Dispensers, Vintage Political Collectibles, Vintage Power Rangers, Vintage Puppet Collectibles, Vintage Push Puppet Toys, Vintage Robot Collectibles, Vintage Simpsons Collectibles, Vintage Snow Globes, Vintage Souvenir Collectibles, Vintage Sports Collectibles, Vintage Star Wars Collectibles, Vintage Stuffed Plush Collectibles, Vintage Talking Toy Collectibles, Vintage Tonka Collectibles, Vintage Toy Cars & Trucks, Vintage Toy Story Collectibles, Vintage TV and Movie Toys, Vintage Winnie the Pooh Collectibles, Vintage X-Men Collectibles
Here's some other cool stuff you might like...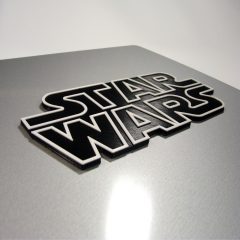 1977 STAR WARS Topps Movie Photo Cards & Stickers Sets Series 1,2,3 Complete in Deluxe Star Wars Aluminum Collector Vault plus bonus original 1977 retail box
1977 STAR WARS Topps Movie Photo Cards & Stickers Sets Series 1,2,3 Complete in Deluxe Star Wars Aluminum Collector Vault plus bonus original 1977 retail box
Year: 1977 and 1978
Manufacturer: Topps
Condition: Near mint condition
1st edition vintage collectables
A UNIQUE GIFT FOR THE SERIOUS STAR WARS COLLECTOR!
The original 1977 Topps Star Wars Movie Photo Cards are a pictorial history of the most iconic film of all time, featuring hundreds of frame by frame images taken from the movie. Nearly a half century ago a young Star Wars collector painstakingly collected and organized the cards and stickers in a shoebox. This original collection has been recently rediscovered and given a major upgrade any hardcore collector will appreciate.
This deluxe collection starts with the FIRST THREE COMPLETE SERIES of 1977 movie photo cards and sticker sets. Each series contains 66 cards and 11 stickers, for a total of 198 cards and 33 stickers. The sets are in mint condition with sharp crisp corners and bright clear printing. They've been stored in the dark at room temperature. They've barely been handled and feel like new.
The sets have been transferred to archival quality deluxe card pocket display pages, which lets you enjoy these collectables while protecting from fingerprints, dirt and spills. The entire 31 page set is clad in a one of a kind deluxe ALUMINUM Collector Vault, machined in the USA from .032 gauge recycled aluminum. It's strong, sleek and protects the valuable contents. The front is emblazoned with a 21st century Star Wars logo plate, 3D printed in the USA. The Vault measures 10.75″ x 11.75″ x 1″ thick. Each series divider has an original partial wax wrapper from each of the 3 original sets from 1977, along with an 8/.5 x 11 mini poster reprint of the retail box artwork.
As a bonus you'll also receive an original Star Wars retail display box, the same box the cards were shipped in. It literally has "shelf wear" from being used as a display in a drug store in 1977. It's been previously repaired with tape. See photos. The original collector will provide a certificate of authenticity, too. Photos are of actual items. Climate controlled storage and minimally handled. Sold as is. Sold as a set only. Only one set available.
$

1,100.00
Add to cart