1977 STAR WARS Musical Score Book
$100.00
Year: 1977
Manufacturer: 20th Century Fox
Condition: Good condition
1st edition, 2nd printing vintage collectable

AUTHENTIC ORIGINAL BOOK FROM 1977
First edition vintage collectable

The original vintage Musical Score Book from 1977 – in very good condition. Like many STAR WARS items, the cover is black, and shows some light wear along the spine. Printed on glossy heavyweight stock, this is a deluxe suouvenir folio of music selections, photos and stories from the STAR WARS movie.
Contains the musical scores from 4 STAR WARS pieces composed by John Williams. 1) The main title piano solo; 2) Main Title Sketch Score; 3) Princess Leia's Theme Piano Solo; and 4) Cantina Band Sketch Score. Plus lots of color and black and white photos from the STAR WARS movie. 9″ x 12″, 64 pages. Copyrighted 1977 20th Century Fox Film Corporation, 2nd printing.
1 in stock
Here's some other cool stuff you might like...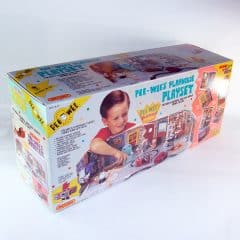 1988 Pee-Wee's Playhouse Set mint in box
Year: 1988
Manufacturer: Matchbox Item 3550
Condition: Mint condition and near mint box
First edition vintage collectable
This is a very rare find and a Paul Reubens masterpiece, a magical blend of toy, art, and just plain fun! This is the set from the late 80's, early 90's TV series "Pee-Wee's Playhouse" on CBS. The vintage playset is printed cardboard sealed inside clear plastic, similar to playsets of the 50's and 60's. The walls fold out and suddenly you're in Pee-Wee's Playhouse!
Big 20" x 28" x 7 1/2" play area. Complete with all parts in perfect condition, including Pee-Wee's scooter with flag, "Floory" the pop-up floor, "Clockey" with hands that turn, "Mr. Window" with a mouth that moves, "Dancing flowers" that can really dance, a working front door, fridge and swinging wall. Also includes platforms, island couch, tv console, kitchen table and bench. Original clear plastic bag holding parts has been discarded, otherwise it's complete.
The Playset comes complete with a GIANT unused 12 1/2" x 26" sticker sheet for decorating the set as well as an original instruction sheet for putting it all together. If you want to play on the go, just snap shut the Playhouse (with real metal snaps), grab the carry handle and your Playhouse is portable!
The packaging is as much a work of art as the playhouse. A giant 12" x 27" x 7 3/4" in size, covered in photos and fun artwork. It is mint condition except for the handwritten code in the upper right corner Toy's R Us wrote on each box(!) on the store shelves in 1988. Photos are of of actual item. Climate controlled storage and minimally handled. Sold as is. Only one available.
$

350.00
Add to cart