1977 STAR WARS Marvel Comics #1-10
$3,500.00
Year: 1977 and 1978
Manufacturer: Marvel
Condition: Very good to near mint condition
1st edition vintage collectables

AUTHENTIC ORIGINAL SERIES PUBLISHED IN 1977 AND 1978
First edition vintage collectables – Not reproductions

In 1977, the very first Star Wars comics were released. The ones you see here were purchased from the local drug store in my tiny southeastern Minnesota hometown. We knew which day comics were delivered, so we were able to get the very first issues. I collected the first 10 issues. I read them once, and they went into collector sleeves, into my closet and into the past. I opened them up recently and scanned the covers. You can see they're in near mint condition. No tears, scratches or other damage.  The corners are all clean and unworn and have been stored in plastic pouches. Fantastic shape for comics printed 40 years ago.
#1-6 illustrate the Star Wars original story faithfully from beginning to end. These are the original issues as they were printed in 1977 by Marvel- not reprints. I only have one of each and they're gone.
BONUS: Buy issues 1-6, and receive issues #7-10 FREE! Issues #7-10 do not follow the storyline of the sequals / prequels, but are an interesting spin-off of the STAR WARS franchise.
1 in stock
Here's some other cool stuff you might like...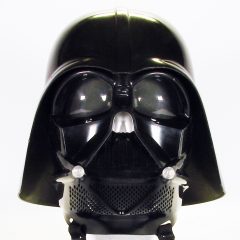 2004 Darth Vader Voice Changing Helmet and Chest Module
Year: 2004
Manufacturer: Hasbro
Condition: Very good condition
This is a very cool piece of Star Wars memorabilia offered by Hasbro in 2004 as part of the Original Trilogy collection. Far from a cheap mask, this is a well designed and molded full head helmet of Lord Vader. The two piece solid plastic design snaps together to cover the head entirely. It fits like a glove and is adjustable for adults and children. The one way eye shields let you see out but no one can see in, helping create a dark and moody presence.
Then it gets Star Wars cool. Press the switch on the chest module control panel to hear the original voice of Darth Vader, James Earl Jones, speaking classic phrases from the Star Wars movie. "The force is with you", "You don't know the powers of the dark side", "Your powers are weak", "Don't make me destroy you!" Speaks in a loud, intimidating voice. Press another button and it makes the classic Darth Vader heavy breathing sound effect. Very intimidating. And it gets even better! Inside the helmet is a built-in microphone. Push the voice synthesizer button and everything you say comes out in a villianeous Vader voice!
Darth's helmet has a few light scuffs and scratches from light years battling the rebel alliance, but Vader's minions polished it up so it's cleaned, shined, and ready for action once again. We'll install 3 fresh AA batteries so it's ready to use immediately. See the video of the mask in action below.
Photos are of actual item. Climate controlled storage and minimally handled. Sold as is. Only one available.
$

83.00
Add to cart