1977 STAR WARS Iron-On Book
$240.00
Year: 1977
Manufacturer: Ballantine
Condition: Good condition
1st edition vintage collectable

AUTHENTIC ORIGINAL PUBLICATION FROM 1977
Original book with set of sixteen fantastic designs you can transfer to any fabric. Kid and adults everywhere wore these t-shirts in 1977 and beyond. Condition is good, however, the images have transferred slightly, causing a ghosting effect to the backs of some of the other transfer pages, but they're still all there in original vibrant colors.
(Disclaimer: These are 40 year old iron-on transfers from the '70s. Using these as working iron-ons is not recommended and is highly doubtful to transfer as originally intended.) But the art is still crisp and clean and classic STAR WARS. Only one book available.
1 in stock
Here's some other cool stuff you might like...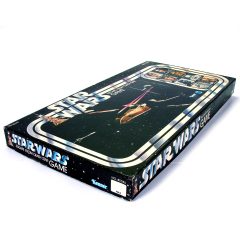 1977 STAR WARS Board Game in Box
Year: 1977
Manufacturer: Kenner / General Mills Fun Group
Condition: Good to very good condition
First edition vintage collectable
This is the one and only original 1977 Star Wars Board Game, licensed to General Mills by Kenner. The board game base is 17 3/4″ square and in nearly mint condition, with very little wear or tear on the board or the fold.
The game follows the plot of the original movie, starting with Luke, Leia, Han and Chewie in the Death Star's trash compactor. After breaking out, the goal is to steal the death star blueprints, turn off the tractor beam, and make the jump to hyperspace on the Millenium Falcon. After several dogfights, the first player to reach the Rebel Base is the winner!
All 52 playing cards are included, featuring Obi-Wan, Yoda and lots of other characters with moves based on the movie. "Win Light Saber dual with Darth Vader- Move ahead 3″! There are 8 game tokens. Each of the 8 tokens go into a  white plastic base piece. The game also includes R2-D2 on the game spinner. The original instruction sheet is also included.
The box measures 18.5″ x 9 1/2″ x 1 1/2" and is in good condition with wear you'd expect from sitting on a shelf for over 40 years. The top edge has separated but it's a fantastic collectible!
Photos are of actual item. Climate controlled storage and minimally handled. Sold as is. Only one available.
$

50.00
Add to cart