1977 STAR WARS Blueprint Portfolio Set
$110.00
Year: 1977
Manufacturer: 20th Century Fox
Condition: Excellent condition
1st edition vintage collectable
AUTHENTIC ORIGINAL PRINTING FROM 1977
First edition vintage collectable
The STAR WARS BLUEPRINTS PORTFOLIO is a unique set of detailed design drawings for the sets and effects of the original movie, including the Cantina at Mos Eiseley, The Millenium Falcon, Luke's Landspeeder, The Sandcrawler, The interior of the Dealth Star and more, laid out in exact scale and detail. Any one of them would look cool framed.
15 blueprints printed on heavy paper, all stored in the origiinal black and clear plastic portfolio they came in. The blueprints are in mint condition; the portfolio case is a little wrinkled but the snap and seams are all intact and in very good shape. Each blueprint is  13 1/8″ x 19″ size. Portfolio size is 7 1/2″ x 10″.  Printed by Ballentine Books. Only one available.
1 in stock
Here's some other cool stuff you might like...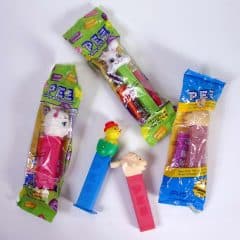 1990's PEZ Dispenser Collection Set of 18
Year: 1990's
Manufacturer: Pez
Condition: Good to excellent condition
First edition vintage collectables
Become an instant PEZ collector with a variety of classic PEZ dispensers. Star Wars, Toy Story, Bart Simpson, Wonder Woman, Batman and more. Standard size 4" to 5" tall with fun colorful characters. A majority are in their original packages. Packaged dispensers include 2 or 3 PEZ candy wafers. A total of 18 fun PEZ dispensers.
Star Wars Darth Vader in package
Star Wars Chewbacca open
Toy Story Buzz Lightyear in package
My Little Pony Rainbow Dash in package
Bart Simpson in package
Finding Dory in package
Finding Dory Nemo in package
Wonder Woman open
Batman open
Santa in package
Elf in package
Penguin in package
Valentine heart in package
Bunny rabbit in package
White lamb in package
Pink lamb in package
White lamb with whistle open
Hatching chicken in egg open
Photos are of of actual items. Climate controlled storage and minimally handled. Sold as is. Only one set available.
$

69.00
Add to cart