1970's Space Patrol Rocket Ship with Robot Pilot in box
$110.00
Year:1970's
Manufacturer: Metalmania
Condition: Very good condition
First edition vintage collectable
This is a bright, colorful, very cool classic 50's style spaceship piloted by a classic blockhead style robot. There is no copyright date on the item or box, but it was purchased in 1981, so it's likely from the 1970's or earlier. The entire toy is made of lithographed tin, except for a plastic steering wheel and windshield. It's a "friction" style toy with an internal wind-up motor. Give it a push and it makes a clicking sound as it rolls. The paint job is in very good condition, with some minor wear marks on the nose and one side fin. The windshield is still crystal clear.
The outer box is classic retro artwork, measures 13 1/2″ x 4 1/2″ x 5″. The box is in great shape, with very minor wear shelf wear mostly on the corners. There are no tears or repairs. Photos are of of actual item. Climate controlled storage and minimally handled. Sold as is. Only 1 available.
1 in stock
Here's some other cool stuff you might like...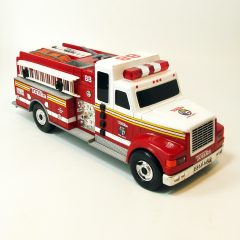 2000 Tonka Rescue 88 Fire Ladder Truck with Lights and Sound Action
Year: 2000
Manufacturer: Tonka / Hasbro / Funrise
Condition: Very good condition
First edition vintage collectable
This is another highly detailed replica of a real emergency vehicle in the Tonka Rescue 88 Emergency Vehicle series. Tonka is famous for quality and detail, and this vehicle features both. The Fire Rescue 88 Ladder Truck has lots of bells and whistles! 4 buttons on the side door activate a combination of voice, sirens and horns, loud and clear as the day it was made. There's a flashing light bar on the roof, flashing headlights and tailights!
The Tonka Fire Rescue 88 Ladder Truck comes with a rotating water cannon, 2 removable ladders, a 2 pc. extension and a 3 pc. extension, plus a basket stretcher. Everything works great! See video below. We'll even include 2 AA batteries so it's ready for action!
The body of the truck is made of high grade molded plastic that almost feels like metal, with no discoloring after two decades. Red and white in color with chrome and black accents. Each side has Tonka markings along with themed fire dept. marks. This item has been gently played with, but is in great condition for it's age.
The Fire Rescue 88 Ladder Truck is 13 1/2″ long, 4 1/2″ wide, 5 1/2″ tall. Production markings on the bottom: Funrise 1999, Tonka and Hasbro 2000.
Photos are of of actual item. Climate controlled storage and minimally handled. Sold as is. Only 1 available.
$

149.00
Add to cart