Danbury Mint Diamonisse Silver Plated Ring and Necklace 4 Piece Set
$125.00
Year: 2020
Manufacturer: Danbury Mint
Condition: Mint condition
First edition vintage collectable
Inspired by the timeless elegance of estate jewelry,The Estate Collection features a matching silver-plated ring, pennant, and pierced earring set. Each piece showcases a radiant Diamonisse center stone sparkling within a glamerous halo setting. As the perfect finishing touch a multitude of shimmering pave accents for a total of over 4 carats of radiant diamonisse. A perfect medley of sophistication and sparkle. Makes a wonderful gift!
The outer gift box measures 4 1/4" x 3 3/4" x 1 1/2".
1 in stock
Here's some other cool stuff you might like...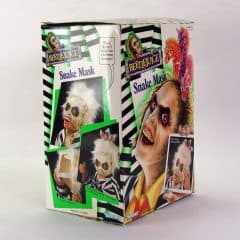 1990 Beetlejuice Snake Mask in box
Year: 1990
Manufacturer: Kenner
Condition: Very good condition
First edition vintage collectable
"Whoa! Maybe I should use a different shampoo!" It's Michael Keaton's character Beetlejuice in a unique snake mask design. This is a totally retro collectable toy with a surprise function. First, it's Beetlejuice himself, wild frazzle hair, blackened eyes and big ugly teeth in a well designed half mask with adjustable strap which fits both kids and adults. The mask has a hidden bulb and air hose, that when squeezed, makes three snakes pop out of the hair, just like in the movie. The pop-up feature still works and makes for a great laugh!
The package has bright illustrations and the Beetlejuice logo. The box has a few corner dings and a slight crease down one side, but it's still in great shape. Some of the original tape on the box has yellowed slightly. The box measures 9 1/2" x 7" x 5".
Photos are of of actual item. Climate controlled storage and minimally handled. Sold as is. Only one is available.
$

69.00
Add to cart