Danbury Mint Diamonisse Silver Plated Ring and Necklace 4 Piece Set
$125.00
Year: 2020
Manufacturer: Danbury Mint
Condition: Mint condition
First edition vintage collectable
Inspired by the timeless elegance of estate jewelry,The Estate Collection features a matching silver-plated ring, pennant, and pierced earring set. Each piece showcases a radiant Diamonisse center stone sparkling within a glamerous halo setting. As the perfect finishing touch a multitude of shimmering pave accents for a total of over 4 carats of radiant diamonisse. A perfect medley of sophistication and sparkle. Makes a wonderful gift!
The outer gift box measures 4 1/4" x 3 3/4" x 1 1/2".
1 in stock
Here's some other cool stuff you might like...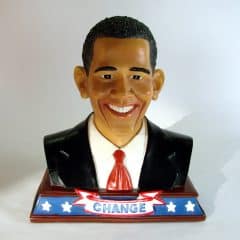 2009 President Obama Change Bank in box
Year: 2009
Manufacturer: Milk and Honey Inc.
Condition: Very good condition
First edition vintage collectable
Many of the more unique political collectables contain an element of humor, and the President Obama Change Bank is no exception. Designed to play off Obama's "Hope and Change" campaign theme, this is a real bank. 9" tall and a pretty good like likeness and detailed sculpture of the 44th President in molded plastic. Very minor wear on the bottom of the bank. Package measures 6 1/4″ x 8 1/2″ x 9 1/4″ and is in very good condition with very minor shelf wear on box.
Photos are of of actual item. Climate controlled storage and minimally handled. Sold as is. Only one available.
$

95.00
Add to cart