2017 Star Wars The Last Jedi 2 Mug Set in Package
$24.50
Year: 2017
Manufacturer: Galerie
Condition: Mint condition mugs and packaging
First edition vintage collectable
This is a set of two 10 ounce Star Wars The Last Jedi ceramic mugs in collectable packaging. One features droid BB8, and the other features Chewbacca in bright, watercolor-style graphics. Very nice quality The set includes two original double chocolate cocoa mix packets.
The package measures 3 1/4″ x 5″ x 10 1/4″ and is in mint condition in the original shrink wrapping. Photos are of of actual item. Climate controlled storage and minimally handled. Sold as is. Only 1 available.
1 in stock
Here's some other cool stuff you might like...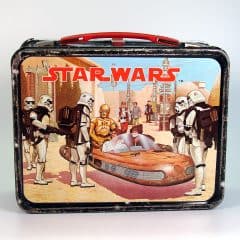 1977 Star Wars Original Lunch Box
Year: 1977
Manufacturer: King-Seely Thermos
Condition: Good condition
First edition vintage collectable
This the original classic Star Wars metal lunchbox with a 1977 copyright date, featuring beautifully illustrated scenes and characters from the first movie on all sides, including an X-wing dogfight with Darth Vader on the front. On the back, Obi Wan is performing the classic Jedi mind trick scene in Mos Eisley.. "These aren't the droids you're looking for."
C-3PO and R2-D2 are on one side, and a "family portrait" of Luke, Leia and Darth Vader is on the other. The rebel alliance preparing to attack the Death Star on the top, and on the bottom is a stormtrooper riding a dewback. Thermos not included.
The lunch box is made of pressed and rolled metal,6 3/4″ x 8 3/4″ x 4″ deep with a red plastic handle and clasp. The inside is white. There is only a small amount of rust and it's on the inside of the lid where it contacts the box. There are small dents and scratches from daily wear, but the art is still colorful, strong and not faded.
This is a lovingly used lunch box and treasured by the young rebel alliance member who proudly carried it to school every day.
Photos are of actual item. Climate controlled storage and minimally handled. Sold as is. Only one available.
$

160.00
Add to cart