2007 and 2008 Bill and Hillary Clinton Corkscrew and Nutcracker Set in boxes
$150.00
Year: 2007 / 2008
Manufacturer: Eagleview USA
Condition: Mint condition figures and packaging
First Edition Vintage collectables
Before Donald Trump, Bill and Hillary Clinton were probably the target of more presidential "gag gifts" than any other 1st Family. This set of unique collectables features the "Corkscrew Bill" wine opener, and "The Hillary Nutcracker". Both items are about 9" long and made of molded plastic. The likenesses are very good and each item is well made. They've never been taken out of their boxes so they're in excellent shape.
Clever packaging compliments each item with descriptive quotes highlighting the high and low points of their careers. Hillary has a copyright date of 2007, Bill is 2008. Boxes are 11.5" x 6" x 2" each and in great shape. A set of historical political collectables! Great gift!
Photos are of actual item. Climate controlled storage and minimally handled. Sold as is. Only one set available.
1 in stock
Here's some other cool stuff you might like...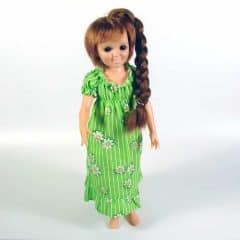 1970 Talking Crissy Pull String Doll
Year: 1970
Manufacturer: Ideal Toy Corporation
Condition: Good condition
First edition vintage collectable
Some girls loved Barbie, but just as popular in the 1970's was the Crissy doll. The Crissy doll was made by Ideal Toy Corporation from 1969 to 1974. She was wildly popular because of her unique ability to "grow hair" with a push of a button on her tummy, and shorten it with a twist of a knob located on her back. Crissy was designed to be much larger than Barbie, too, at 18" tall. This Crissy is wering her original green flower dress. This model was made in 1970. The date on her head is 1969, which is the date on all Crissy heads from 1969 to 1972.
This Crissy does not come with her wardrobe. See our other Crissy doll if you want the wardrobe.
Crissy says 12 phrases randomly when her string is pulled. The voice works but is not perfect. See the video below to hear the voice.
"Hi, I'm Crissy!"
"Let's have a party."
"Brush my hair please."
"Please dry my hair."
"Make my hair short."
"Make my hair long."
"My hair grows."
"I love you".
"I've got a secret."
"I like to dress up."
"Set my hair please".
"Velvet talks too."
Photos are of of actual item. Climate controlled storage and minimally handled. Sold as is. Only one available.
$

57.00
Add to cart