2007 and 2008 Bill and Hillary Clinton Corkscrew and Nutcracker Set in boxes
$150.00
Year: 2007 / 2008
Manufacturer: Eagleview USA
Condition: Mint condition figures and packaging
First Edition Vintage collectables
Before Donald Trump, Bill and Hillary Clinton were probably the target of more presidential "gag gifts" than any other 1st Family. This set of unique collectables features the "Corkscrew Bill" wine opener, and "The Hillary Nutcracker". Both items are about 9" long and made of molded plastic. The likenesses are very good and each item is well made. They've never been taken out of their boxes so they're in excellent shape.
Clever packaging compliments each item with descriptive quotes highlighting the high and low points of their careers. Hillary has a copyright date of 2007, Bill is 2008. Boxes are 11.5" x 6" x 2" each and in great shape. A set of historical political collectables! Great gift!
Photos are of actual item. Climate controlled storage and minimally handled. Sold as is. Only one set available.
1 in stock
Here's some other cool stuff you might like...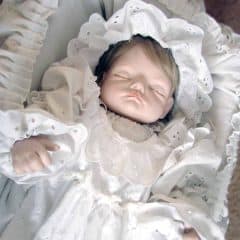 1989 Joyce Wolf Victorian My Princess Doll with Cradle
Year: 1989
Manufacturer: Joyce Wolf
Condition: Very good condition figure and cradle
First edition vintage collectable
Joyce Wolf creates a unique line of doll patterns and parts for those who want to make their own doll. The My Princess Victorian Doll is 19" tall with fine porcelain head and hands. The features can be customized by painting and firing, and patterns for various outfits are available. This is a completed My Princess Doll with a custom victorian white lace sleeper and nightcap. Also included is a matching girl's size nightcap so the doll's owner can play dress-up too.
The cradle is a woven reed basket with a walnut finish, 24" x 12" x 8" tall and is padded with a white lace covering which matches the sleeper and caps.
Photos are of of actual item. Climate controlled storage and minimally handled. Sold as is. Only one available.
$

69.00
Add to cart