2004 Peanuts Snoopy EVA Lamp
$65.00
Year: 2004
Manufacturer: Idea Nuova
Condition: Mint condition lamp
First edition vintage collectable
This is a novel item a Peanuts collector will appreciate. It's a cool lamp featuring the WWI Flying Ace sitting on his doghouse. The doghouse is mounted on a spring-style base to make it look like he's flying through the air. Snoopy and his doghouse are molded out of EVA, a plastic material with a rough texture. EVA is translucent and lets off a glow from the light inside. It's a very unique and hard to find in new condition.
The entire lamp is about 11″ tall, 5 1/2″ x 4″, and the outer package is about the same size. The package is sealed. The outer package shows some signs of aging, but the lamp will be like new since it's never been opened. It has all the original labels, instructions and tags.
Photos are of of actual item. Climate controlled storage and minimally handled. Sold as is. Only one available.
1 in stock
Here's some other cool stuff you might like...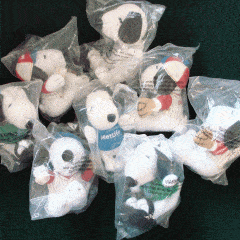 2010-2014 Snoopy MetLife Plush Sets
Year: 2010-2014
Manufacturer: Multiple manufacturers
Condition: Excellent condition, clean and unused
First Edition Vintage collectables
Snoopy was the spokesdog for MetLife Insurance for 31 years, until 2014. These are from the last four year's of MetLife's association with Peanuts, and will only become more collectable. They vary in size from 5" to 7" and each one is dressed in a unique themed outfit, some of them with incredible detail. Several sets are available. Choose a set below to see the price for each set.
Set 1: 3 pc.
Charlie Brown, Woodstock, and Snoopy with backpack and hiking hat
Set 2: 3 pc.
4th of July Snoopy,  Race Car Snoopy, and the MetLife Blimp
Set 3: 5 pc.
Golfer Snoopy with a set of clubs, Football, Basketball, Snorkeler with snorkel and clear goggles, and Robin Hood
Set 4: 5 pc.
SOLD OUT
Set 5: 8 pc.
4 baseball players, 2 MetLife promotional t-shirts, and Save the Planet Snoopy
Photos are of actual items. Climate controlled storage and minimally handled. Sold as is. Only one set of each available. If ordering more than 1 set, add each to cart individually. You will only be charged for shipping 1 set.
$

36.00 –

$

84.00
Select options