2004 Futurama Bender Robot Action Toy in Box
$110.00
Year: 2004
Manufacturer: Bandai
Condition: Mint condition figure in very good condition box
1st edition vintage collectable
If you're a Futurama fan, you know Bender's favorite line is "Bite my shiny metal ass!" Well, now you can! This is a real Bender, and he has a real shiny metal ass! "Bright 'N' Shiny Bender" is 8 1/2" tall and made out of metal, made just like a vintage tin robot. Wind him up and he walks. The door on his chest opens to reveal actual working gears inside! Bender comes complete with a Mom's oil can, a cigar for his mouth and a metal wind-up key.
The package is 10 1/2" x 6" x 3 1/4" designed with classic Futurama graphics. A great gift or robot collectible! Warning: Not for Earthlings, Neptunians, or Omicronians under 3 Earth years of age.
Photos are of actual item. Climate controlled storage and minimally handled. Sold as is. Only one available.
1 in stock
Here's some other cool stuff you might like...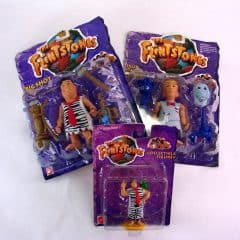 1993 The Flintstones Movie Fred & Barney Figures- Set of 3 in packages
Year: 1993
Manufacturer: Mattel
Condition: Mint condition figurines in package
First edition vintage collectables
This is another Fred and Barney set featuring actors John Goodman and Rick Moranis as Fred and Barney. Fred is now Junior VP at Slate & Co., and dressed in his Big Shot outfit. He comes with a red power tie, Wilstone golf club bag, a golf club and parrot cell-phone. Barney is in his filling station outfit with his work hat, dyno-wrench and octopus squeegee. This set includes a bonus 3" miniature Big Shot Fred.
Like the other set, the packaging looks like chiseled rock. The clear bubble packaging makes it look like the characters are frozen in an ice glacier. Very cooool! Packaging is in great shape and has very minimal corner bending on the bottom corners. Larger packages measure 10 1/2" x 7 1/2" x 2" and the small one is 7" x 5" x 1 1/2".
Photos are of of actual items. Climate controlled storage and minimally handled. Sold as is. Only one set is available.
$

34.00
Add to cart