2004 Arnold Schwarzenegger Montage Limited Edition Framed Signed Print by Nick Shotwell
$95.00
Year: 2004
Artist: Nick Shotwell
Condition: Near mint condition print
First edition vintage collectable
This limited edition signed print of Arnold Schwarzenegger is drawn by illustrator Nick Shotwell. The story reads like a fairytale, but it's true, and it goes like this. Schwarzenegger was at a prominent bodybuilding and sports event in Columbus, Ohio. Artist Nick Shotwell attended the event and brought along a montage of portraits he had drawn of his idol, hoping Schwarzenegger would autograph it. Somehow, he managed to get backstage, and he stationed himself beside Schwarzenegger's waiting limousine.
Not only did he get an autograph, but he got a call from Schwarzenegger's secretary a week later asking if he could create some more artwork for him. "It was amazing," recalls Shotwell. "He was my number-one idol and it meant a lot to me that he thought I was a talented artist. Had I not met him, I don't know if I would have had the confidence to believe I could do art for a living and become a medical animator."
The print measures 18 1/4″ x 24 1/4″ and is in near mint condition. It comes in a basic black metal frame with plexiglas that has some signs of age, including a few dings and scratches. Would look best re-framed but the current one has helped protect the artwork.
Photos are of actual item. Climate controlled storage and minimally handled. Sold as is. Only one available.
1 in stock
Here's some other cool stuff you might like...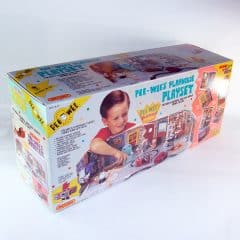 1988 Pee-Wee's Playhouse Set mint in box
Year: 1988
Manufacturer: Matchbox Item 3550
Condition: Mint condition and near mint box
First edition vintage collectable
This is a very rare find and a Paul Reubens masterpiece, a magical blend of toy, art, and just plain fun! This is the set from the late 80's, early 90's TV series "Pee-Wee's Playhouse" on CBS. The vintage playset is printed cardboard sealed inside clear plastic, similar to playsets of the 50's and 60's. The walls fold out and suddenly you're in Pee-Wee's Playhouse!
Big 20" x 28" x 7 1/2" play area. Complete with all parts in perfect condition, including Pee-Wee's scooter with flag, "Floory" the pop-up floor, "Clockey" with hands that turn, "Mr. Window" with a mouth that moves, "Dancing flowers" that can really dance, a working front door, fridge and swinging wall. Also includes platforms, island couch, tv console, kitchen table and bench. Original clear plastic bag holding parts has been discarded, otherwise it's complete.
The Playset comes complete with a GIANT unused 12 1/2" x 26" sticker sheet for decorating the set as well as an original instruction sheet for putting it all together. If you want to play on the go, just snap shut the Playhouse (with real metal snaps), grab the carry handle and your Playhouse is portable!
The packaging is as much a work of art as the playhouse. A giant 12" x 27" x 7 3/4" in size, covered in photos and fun artwork. It is mint condition except for the handwritten code in the upper right corner Toy's R Us wrote on each box(!) on the store shelves in 1988. Photos are of of actual item. Climate controlled storage and minimally handled. Sold as is. Only one available.
$

350.00
Add to cart