2004-05 Simpsons 2 Board Game Set
$29.95
Get 2 both Board Games for 1! Perfect Games for Family Gatherings!
First, take a spin through America's most popular hometown – Springfield! Homer, Marge and the kids take you along this fascinating road of good and bad fortune! Spin the wheel of fate and do good deeds to earn Life Tiles and more money down the road!
Then, An "unknown employee" at the Springfield Nuclear Power Plant was distracted for only a moment. Now the cooling tower is clogged an a chain reaction is ticking toward a catastrophic meltdown! Players race against the clock to unclog he reactor. But the more you move, the more you have to do… at the same time. Only the most nimble, least distracted, most multi-tasking Player can save Springfield. Whatever you do, Don't Panic!!
Here's some other cool stuff you might like...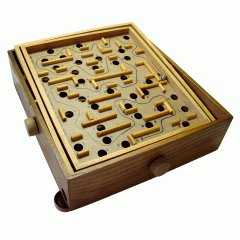 1970's Space Tilt Labyrinth Marble Game in Original Box
Year: Early 1970's
Manufacturer: Pacific Game Co. #4025W
Conditon: Very good condition game in original box
First edition vintage collectable
Space Tilt is the groovy 1970's tilting table marble game. Think of it as a real-world version of Pac Man. Space Tilt requires dexterity and quick reflexes to guide the steel ball through the maze without falling in any of the holes on the playing field.
Weighing in at over 3 lbs, Space Tilt is made entirely of wood, with 'finest quality construction" as it says right on the box. Made in Hollywood, USA. It's a big 11 1/2" x 13.25" x 3.5" size, constructed of two floating wood trays inside an outer wood box. Each tray is made from 1/4" thick solid maple, with a masonite tilting field. All parts are intact, including 4 wood control knobs. It was played with gently and the original lacquer finish is still intact. Also includes original 2 steel marbles.
Includes a rare original Space Tilt retail box, measuring 14" x 15.5" x 4" and features a great litho color label with vintage 1970's artwork. The box has a few wrinkles, but there are no tears or rips and all the flaps are intact, including original cardboard inserts to protect the game table.
Photos are of actual item. Climate controlled storage and minimally handled. Sold as is. Only one available.
$

150.00
Add to cart