2003 Kobe Bryant Bobblehead from Nutella
$260.00
Year: 2003
Manufacturer: Nutella / Upper Deck Collectibles
Condition: Mint condition figure in original mailing packages
First edition vintage collectable
Kobe is now a part of history, and so is this is a rare Kobe Bryant bobblehead which was available by mail-in offer through Nutella in 2003. The bobblehead was made by Upper Deck. He's wearing his original Laker jersey no. 8. The figure of Kobe is just under 7″ tall and is well made and nicely detailed. The figure is still in his original plastic tray, white packing box, and the original mailing box. It also includes the original letter from Nutella with the Nutella logo. As a special bonus, you'll receive the Sunday paper ad for ordering the bobblehead (minus the coupon, which had to be cut out and mailed in with a Nutella UPC proof of purchase).
The package measures 8″ x 3 /12″ x 3 1/2″ and is a plain white box. The outer mailing package is slightly larger and has the original mailing stamp- 81.8 cents to ship! Photos are of of actual item. Climate controlled storage and minimally handled. Sold as is. Only one available.
1 in stock
Here's some other cool stuff you might like...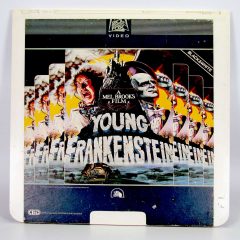 1974 Young Frankenstein Laser Disc
Year: 1974
Manufacturer: 20th Century Fox
Condition: Good condition
First edition vintage collectable
The laser disc was cutting edge 1970's technology. For the first time, an ENTIRE movie fit on a thick metal disc inside a 13" square plastic cartridge. One disc is made from more metal and plastic than a dozen iPhones! The disc was built to last forever. Unfortunately technology changes and if you have a laser disc player, it's getting hard to find movies to play on it.
Now you can own and watch the official LD release of the classic Young Frankenstein movie starring Gene Wilder, Peter Boyle, Marty Feldman, Cloris Leachman, Terri Garr, Kenneth Mars and Madeline Kahn. Filmed in glorious black and white, this homage to horror movies was written and directed by the one and only Mel Brooks, mastermind behind The Producers, Blazing Saddles, High Anxiety, Spaceballs, and many other movies. Probably Gene Wilder's best performance. Rotten Tomatoes gave it a 94. 
Photos are of actual item. Climate controlled storage and minimally handled. Sold as is. Only one available.
$

49.00
Add to cart