2003 Kobe Bryant Bobblehead from Nutella
$260.00
Year: 2003
Manufacturer: Nutella / Upper Deck Collectibles
Condition: Mint condition figure in original mailing packages
First edition vintage collectable
Kobe is now a part of history, and so is this is a rare Kobe Bryant bobblehead which was available by mail-in offer through Nutella in 2003. The bobblehead was made by Upper Deck. He's wearing his original Laker jersey no. 8. The figure of Kobe is just under 7″ tall and is well made and nicely detailed. The figure is still in his original plastic tray, white packing box, and the original mailing box. It also includes the original letter from Nutella with the Nutella logo. As a special bonus, you'll receive the Sunday paper ad for ordering the bobblehead (minus the coupon, which had to be cut out and mailed in with a Nutella UPC proof of purchase).
The package measures 8″ x 3 /12″ x 3 1/2″ and is a plain white box. The outer mailing package is slightly larger and has the original mailing stamp- 81.8 cents to ship! Photos are of of actual item. Climate controlled storage and minimally handled. Sold as is. Only one available.
1 in stock
Here's some other cool stuff you might like...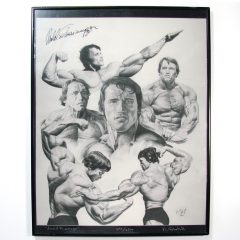 2004 Arnold Schwarzenegger Montage Limited Edition Framed Signed Print by Nick Shotwell
Year: 2004
Artist: Nick Shotwell
Condition: Near mint condition print
First edition vintage collectable
This limited edition signed print of Arnold Schwarzenegger is drawn by illustrator Nick Shotwell. The story reads like a fairytale, but it's true, and it goes like this. Schwarzenegger was at a prominent bodybuilding and sports event in Columbus, Ohio. Artist Nick Shotwell attended the event and brought along a montage of portraits he had drawn of his idol, hoping Schwarzenegger would autograph it. Somehow, he managed to get backstage, and he stationed himself beside Schwarzenegger's waiting limousine.
Not only did he get an autograph, but he got a call from Schwarzenegger's secretary a week later asking if he could create some more artwork for him. "It was amazing," recalls Shotwell. "He was my number-one idol and it meant a lot to me that he thought I was a talented artist. Had I not met him, I don't know if I would have had the confidence to believe I could do art for a living and become a medical animator."
The print measures 18 1/4″ x 24 1/4″ and is in near mint condition. It comes in a basic black metal frame with plexiglas that has some signs of age, including a few dings and scratches. Would look best re-framed but the current one has helped protect the artwork.
Photos are of actual item. Climate controlled storage and minimally handled. Sold as is. Only one available.
$

95.00
Add to cart