2001 Genuine Garfield Kids Meal Toys Complete Set of 6
$39.00
Year: 2001
Manufacturer: Dairy Queen
Condition: Mint condition
First Edition Vintage collectables
This is an exceptionally well made series of vintage Garfield toys branded with the Genuine Garfield logo. These toys were included with Dairy Queen Kids Meals nationwide in 2001. See the tv commercial for the Garfield set below. These are original items from the personal collection of the designers who created the toys for Dairy Queen. All items are sealed or shrink wrapped in their original packages in great condition. 
Photos are of of actual items. Climate controlled storage and minimally handled. Sold as is. Only one set available.
Garfield Coloring Kit on a roll – Real Garfield Comic strips to color. Includes 3 crayons and a built-in sharpener in the tip.
Garfield Bendee
Odie Bendee
Garfield Picture Cube
Garfield Sipper Straw with Embossed Medallion
Garfield Color Me Mask Set with Crayons
1 in stock
Product Video
https://www.youtube.com/watch?v=SEvUedaDGAU
Here's some other cool stuff you might like...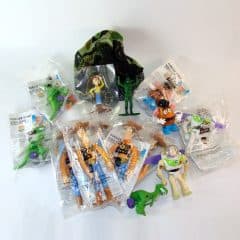 1995 Toy Story Burger King Kids Meal Toys 15 pc. Misc. Set
Year: 1995
Manufacturer: Disney / Burger King
Condition: Very good to mint condition
First edition vintage collectables
This is a 15 pc. set of kids meal toys. A majority are from the original Toy Story movie. Most of the item were released when the original movie came out in 1995, so they are first edition collectables. This is an incomplete set but there are multiples of some of the items such as Woody. If you're looking for miscellaneous figures to complet your first edition of Burger King Toy Story toys, this is for you!
Set includes:
5 Woody 6″ tall plush figures each sealed in polybag
1 Buzz Lightyear 4″ tall figure with pop-out wings sealed in polybag
3 Rex the Dinosaur press and go rollers – 2 sealed, 1 loose with no polybag
2 Mr. Potatohead walking figures – 1 sealed, 1 loose with no polybag
1 Army Man Paratrooper with Parachute open polybag
Bonus miscellaneous figures:
1 McDonalds Jessie 5″ figurine with rope in open polybag from Toy Story 2 (not shown)
1 McDonalds Prospector with barrel 5″ in open polybag from Toy Story 2 (not shown)
1 General Mills Cereal Woody 3″ figure sealed in polybag from the 1st Toy Story movie.
$

47.00
Add to cart