2001 Garfield Dairy Queen Old Fashioned Embossed Tin Christmas Ornaments Set of 4 in Packages
$65.00
Year: 2001
Manufacturer: Dairy Queen / PAWS
Conditon: Mint condition in packages
First edition vintage collectables
At a time when almost all toys are made of plastic, this throwback to old fashioned tin toy making is unique and somewhat rare. Even better, it features everyone's favorite cat, Garfield. This is a complete set of four original Garfield embossed tin enamel painted ornaments. They measure 3 1/2" to 4" in height and come complete with a gold hanging loop for hanging on the tree. The ornaments are not only embossed, but are double sided front and back, making them very substantial and durable. If you are a Garfield collector, this is a must have for your holiday collection!
– Garfield Santa on a yellow ornament
– Garfield with Pooky on a blue ornament
– Garfield and Odie in a wreath on a white ornament
– Garfield the Train Engineer on a pink ornament
Each ornament sits in a collectable clear window box imprinted with the Garfield Collection logo and Dairy Queen logos and measures 4" x 5" x 2". Boxes are in near mint condition.
Photos are of of actual item. Climate controlled storage and minimally handled. Sold as is. Only a few sets are available.
1 in stock
Here's some other cool stuff you might like...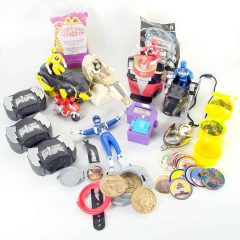 Vintage Power Rangers Grab Bag Starter Set
Year: 1994 and later
Manufacturer:
Condition: Varying from good to near mint
First edition vintage collectable
Celebrate the 25th anniversary of the famous teenage morphers with this collection of everything Power Rangers! This is a mixed set of Power Rangers-themed toys from various kids meal programs from both vintage TV and movie series. The set includes figurines, vehicles, watches and other gadgets as shown.
Also includes a partial box of 13 mint condition unopened packages of 1st series trading cards featuring the original Power Rangers. Each pack contains 7 Power Ranger cards, 1 Power Foil etched card plus a Power Pog Cap. The fronts of the cards feature cast members from the movie and a wide variety of artwork from the movie. The back of each card contains facts, stories, and secret messages to decode. That's 117 cards/pogs in their original box, plus 22 toys for hours of fun- an instant collector set of vintage Power Ranger toys. Makes a great gift!
Photos are of of actual item. Climate controlled storage and minimally handled. Sold as is. Only one set available.
$

77.00
Add to cart