1999 Halloween Meanies "GRISLY GRIZZLIES" Set of 3
$49.00
Year: 1999
Manufacturer: The Idea Factory
Condition: Near mint condition
First edition vintage collectable
These are three collectable "Grisly Grizzlies" from 1999, featuring Frankenbear, Dracubear, and Bearwitched! Only 10,000 were manufactured of each Meanie Beanie. They're amazingly detailed with lots of plush soft fabric and filled with PE beads. Frankenbear has bolts in his head and neck and a fur vest. Dracubear has a cape, vest and bow tie. Bearwitch has long scragly hair tucked under her witches hat and is carrying a broom. Scary but very cuddly! Each has all their tags and each one is individually numbered in this extremely limited edition.
Photos are of actual item. Purchased at auction of a retail gift store owner's private collection of rarities, never offered at retail. Climate controlled storage and minimally handled. Sold as is. Only a few sets available.
7 in stock
Here's some other cool stuff you might like...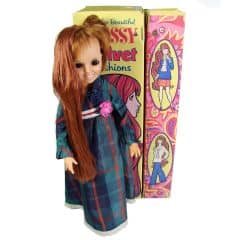 1970 Talking Crissy Pull String Doll w/ Carry Case
Year: 1970
Manufacturer: Ideal Toy Corp.
Condition: Good condition doll and carry case
First edition vintage collectable
Some girls loved Barbie, but just as popular in the 1970's was the Crissy doll. The Crissy doll was made by Ideal Toy Corporation from 1969 to 1974. She was wildly popular because of her unique ability to "grow hair" with a push of a button on her tummy, and shorten it with a twist of a knob located on her back. Crissy was designed to be much larger than Barbie, too, at 18" tall. Crissy is wering her original green taffeta dress with white lace trim. This model was made in 1970. The date on her head is 1969, which is the date on all Crissy heads from 1969 to 1972.
Crissy comes with her own wardrobe storage, which is imprinted with groovy artwork of the time. The wardrobe is 8 1/2" x 3 1/4" x 19" tall when closed, and opens up with an area to keep Crissy, and additional room to store clothes and accessories.
Crissy says 12 phrases randomly when her string is pulled. The voice works but is not perfect. See the video below to hear the voice.
"Hi, I'm Crissy!"
"Let's have a party."
"Brush my hair please."
"Please dry my hair."
"Make my hair short."
"Make my hair long."
"My hair grows."
"I love you".
"I've got a secret."
"I like to dress up."
"Set my hair please".
"Velvet talks too."
Photos are of of actual item. Climate controlled storage and minimally handled. Sold as is. Only one available.
$

66.00
Add to cart