1999 Beatles Paul McCartney Yellow Submarine Figures in Package
$65.00
Year: 1999
Manufacturer: McFarlane Toys
Condition: Mint condition figures
First edition vintage collectable
From the golden age of figurines comes this rare Beatles Paul McCartney 7.5" tall molded figure, colorfully dressed in his nehru jacket, groovy tie and bell bottoms right out of the Yellow Submarine animated movie, released in 1969. 
The set includes a second figure, a Blue Meanie-controlled "dreadful flying glove" which John Lennon discovers can be defeated when without the "G", glove becomes LOVE. The finger is attached by a swivel to the LOVE base. Very far out!
The package measures 8.25" x 13.5" x 2.25" and is covered with bright vintage Beatles graphics. The back of the package features the rest of the Fab 4 figure collection. The package is a sealed blister pack and has never been opened. Some minor shelf wear on the corners.
Photos are of actual item. Climate controlled storage and minimally handled. Sold as is. Only one available. Also available: John Lennon figure.
1 in stock
Here's some other cool stuff you might like...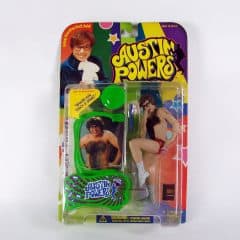 1999 Austin "Danger" Powers Ultra-Cool Talking Action Figure v1: "Horny" in Package
Year: 1999
Manufacturer: McFarlane Toys
Condition: Mint condition in mint package
First edition vintage collectable
Yeah baby! It's the one and only Austin Powers, nearly naked with a chest full of curly hair. Wearing only Union Jack underwear, Austin is totally shagadelic! This toy made the news in 1999 when some found the text on the package and the randy phrases a little too "adult" for children. There were multiple versions. This one has Austin saying "Do I make you horny baby, do I?" on the front, and includes a sexy dictionary, along with a mirror, a martini glass and olive on a stirrer. The martini glass and olive stirrer were very small parts, and removed from later versions because of the choking hazard. A second version was made with different phrasing (see other model by clicking here).
Austin is about 6" tall, and in his original packaging, which is in mint condtion. Mike Meyers provides the voice, which is in the base. The tab has never been pulled on either version, so it should speak when removed, but it's not guaranteed. (Why would you ever open it anyway baby?)
Photos are of of actual item. Climate controlled storage and minimally handled. Sold as is. Only one available.
$

69.00
Add to cart