1999 Austin Powers Ultra-Cool Talking Action Figure Dr. Evil and Mr. Bigglesworth in Package
$59.00
Year: 1999
Manufacturer: McFarlane Toys
Condition: Mint condition
First edition vintage collectable
It's Austin Powers arch villian Dr. Evil in a rare orange tinted blister package. The first movie is now over 20 years old and original figures are becoming more and more collectable. This package features a 6″ tall Dr. Evil and his cat, Mr. Bigglesworth. Comes with a money packet labelled '$1 million'. Dr. Evil says his most famous catch phrase, "One million dollars!"
The package is in very good condition. The upper right corner has a small scratch on the front, a wrinkle in the cardboard about an inch long on the back, and there is slight shelf wear on the bottom corners, but overall it's in really good shape. Austin is about 6" tall, and in his original packaging, which is in mint condition. Mike Meyers provides the voice, which is in the base. The tab has never been pulled.
Photos are of of actual item. Climate controlled storage and minimally handled. Sold as is. Only one available.
1 in stock
Here's some other cool stuff you might like...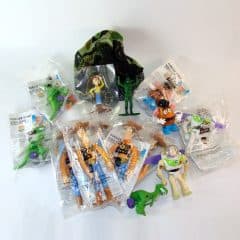 1995 Toy Story Burger King Kids Meal Toys 15 pc. Misc. Set
Year: 1995
Manufacturer: Disney / Burger King
Condition: Very good to mint condition
First edition vintage collectables
This is a 15 pc. set of kids meal toys. A majority are from the original Toy Story movie. Most of the item were released when the original movie came out in 1995, so they are first edition collectables. This is an incomplete set but there are multiples of some of the items such as Woody. If you're looking for miscellaneous figures to complet your first edition of Burger King Toy Story toys, this is for you!
Set includes:
5 Woody 6″ tall plush figures each sealed in polybag
1 Buzz Lightyear 4″ tall figure with pop-out wings sealed in polybag
3 Rex the Dinosaur press and go rollers – 2 sealed, 1 loose with no polybag
2 Mr. Potatohead walking figures – 1 sealed, 1 loose with no polybag
1 Army Man Paratrooper with Parachute open polybag
Bonus miscellaneous figures:
1 McDonalds Jessie 5″ figurine with rope in open polybag from Toy Story 2 (not shown)
1 McDonalds Prospector with barrel 5″ in open polybag from Toy Story 2 (not shown)
1 General Mills Cereal Woody 3″ figure sealed in polybag from the 1st Toy Story movie.
$

47.00
Add to cart