1998 Star Trek Alien Beans set of 6
$75.00
Year: 1998
Manufacturer: Idea Factory
Condition: Near mint condition
First edition vintage collectables
Not a beanie collector? This set of Star Trek Alien Beans may make you boldly go where no man has gone before. This unique set of Star Trek memorabilia was made in a limited, individually numbered series of only 50,000 pc. per character. It's getting hard to find a full set in such great shape.
Any true Trekkie will recognize each alien. The full six piece set includes 4 aliens from the original Star Trek series: a Vulcan, The Gorn, an Andorian and Mugato. The set includes 2 aliens from Next Generation series: Ferengi and a Klingon Targ.
The spirit of each alien was perfectly captured in the set of six alien figures. They're made of vinyl and plush furs and filled with polybeads for a weighty feel. Each is dressed in authentic looking outfits and other features you'll recognize from the tv series, right down to the jewel eyes and cheesy vest worn by the Gorn in the 1967 Trek episode "Arena".
Each Alien Bean has the original tag with the characters name, first episode appearance and date, and a description.
Photos are of actual items. Climate controlled storage and minimally handled. Sold as is. Sold in set of six.
1 in stock
Here's some other cool stuff you might like...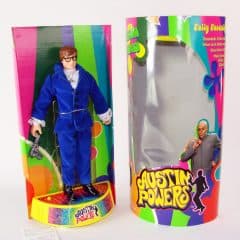 1998 Austin Powers Poseable Talking Figure in Box
Year: 1995
Manufacturer: Trendmasters
Condition: Mint condition in mint package
First edition vintage collectable
Women want him… men want to be him… he's the International Man of Mystery! And now you can have the one and only Austin Powers Talking Action Figure! This figure was released to coincide with the first Austin Powers movie. Austin is looking totally shagadelic in his blue velvet suit, ruffle shirt, horn-rim glasses, male symbol necklace, pistol, and Union Jack underwear! He even has a hairy chest, and oh, those teeth! This is an amazingly detailed figure and fully poseable arms and legs. 9" tall figure standing on a 1" base with a speaker.
Mike Meyers provides the original voice for 4 of his favorite sayings: "Very shagadelic!", "Smashing baby!", "Oh, behave!", "Yeah, baby!" and can be played without removing Austin from his groovy pad. Very rare and very collectable.
Austin's "package" is impressive as well, a full 12 1/2″ tall x 6″ x 3″ and covered in a psychedelic explosion of colors and photos of Austin, Dr. Evil, and one of the Fembots. Mint condition. Photos are of of actual item. Climate controlled storage and minimally handled. Sold as is. Only one available. Yeah baby!
$

96.00
Add to cart