1997 Lost in Space Movie Robot in box
$130.00
Year: 1997
Manufacturer: Trendmasters
Condition: Excellent condition robot with good condition box
First edition vintage collectable
This is the Lost in Space Robot from the 1997 movie starring William Hurt, Mimi Rogers and Matt LeBlanc. It has lots of cool functions, with alert sirens and dialog from the movie in the original voice, loud and clear. Robot has multiple posable arms, some with gripping claws. His head lights up, as well as floodlights on his chest. He comes with 2 original rockets which can be fired from a tilting mechanism on his back, hidden compartments, and more!
This is an authentic first edition model. Later models are often sold as first edition but this one has the larger 6 3/4″ deep box with slightly different graphics and die cut.
The box is 6 3/4″ x 9″ x 11″ and in good shape, with a dent in the upper right corner. There is some minor shelf wear but no rips or tears. Item was removed from original packaging to put in batteries and for photography.
Photos are of actual item. Climate controlled storage and minimally handled. Sold as is. Only one available.
1 in stock
Here's some other cool stuff you might like...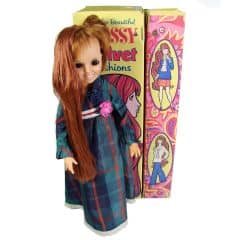 1970 Talking Crissy Pull String Doll w/ Carry Case
Year: 1970
Manufacturer: Ideal Toy Corp.
Condition: Good condition doll and carry case
First edition vintage collectable
Some girls loved Barbie, but just as popular in the 1970's was the Crissy doll. The Crissy doll was made by Ideal Toy Corporation from 1969 to 1974. She was wildly popular because of her unique ability to "grow hair" with a push of a button on her tummy, and shorten it with a twist of a knob located on her back. Crissy was designed to be much larger than Barbie, too, at 18" tall. Crissy is wering her original green taffeta dress with white lace trim. This model was made in 1970. The date on her head is 1969, which is the date on all Crissy heads from 1969 to 1972.
Crissy comes with her own wardrobe storage, which is imprinted with groovy artwork of the time. The wardrobe is 8 1/2" x 3 1/4" x 19" tall when closed, and opens up with an area to keep Crissy, and additional room to store clothes and accessories.
Crissy says 12 phrases randomly when her string is pulled. The voice works but is not perfect. See the video below to hear the voice.
"Hi, I'm Crissy!"
"Let's have a party."
"Brush my hair please."
"Please dry my hair."
"Make my hair short."
"Make my hair long."
"My hair grows."
"I love you".
"I've got a secret."
"I like to dress up."
"Set my hair please".
"Velvet talks too."
Photos are of of actual item. Climate controlled storage and minimally handled. Sold as is. Only one available.
$

66.00
Add to cart