1997 Lost in Space Movie Robot in box
$130.00
Year: 1997
Manufacturer: Trendmasters
Condition: Excellent condition robot with good condition box
First edition vintage collectable
This is the Lost in Space Robot from the 1997 movie starring William Hurt, Mimi Rogers and Matt LeBlanc. It has lots of cool functions, with alert sirens and dialog from the movie in the original voice, loud and clear. Robot has multiple posable arms, some with gripping claws. His head lights up, as well as floodlights on his chest. He comes with 2 original rockets which can be fired from a tilting mechanism on his back, hidden compartments, and more!
This is an authentic first edition model. Later models are often sold as first edition but this one has the larger 6 3/4″ deep box with slightly different graphics and die cut.
The box is 6 3/4″ x 9″ x 11″ and in good shape, with a dent in the upper right corner. There is some minor shelf wear but no rips or tears. Item was removed from original packaging to put in batteries and for photography.
Photos are of actual item. Climate controlled storage and minimally handled. Sold as is. Only one available.
1 in stock
Here's some other cool stuff you might like...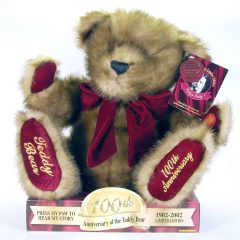 2002 100th Anniversary Teddy Bear Plush in box
Manufacturer: Walmart
Condition: Mint condition figure in near mint condition box
1st edition vintage collectable
The term "Teddy Bear" came into being more than a century ago in 1902, when President Teddy Roosevelt was with a hunting party that captured a bear cub and tied it to a nearby tree. Upon seeing this, he ordered the bear set free.
Hearing of this noble act, a New York store owner wanted to name the toy bears in his store after the President. Thus, he wrote a letter to the President asking permission to name the toy bears "Teddy". The President gave his consent and from that day on all toy bears are called Teddy bears.
Teddy is 13″ tall and is absolutely gorgeous! Not an ordinary furry plush toy, Teddy is constructed using high quality multi-color faux fur. He's sporting a sewn bow in maroon, with matching foot pads bearing his name and 100th Anniversary sewn in gold thread. Teddy talks, reciting the story of how he came into being. Requires 3 AA batteries, which are included! See video below.
Teddy is still sitting on the original pedestal box he came in. He has all tags, including story card and golden embossed medallion. The pedestal box measures 9″ x 11 3/4″. This is a limited edition collectable sure to increase in value!
Photos are of actual item. Climate controlled storage and minimally handled. Sold as is. Only one available.
$

69.00
Add to cart