1996 Olympic Gymnast Barbie in box
$65.00
Manufacturer: Kenner
Condition: Mint condition figure in near mint condition box
1st edition vintage collectable
The Olympics have been hosted in the USA only four times in history. Imagine what a Barbie from the first three Olympics would be worth today! This is the first edition Olympic Gymnast Barbie from the 1996 Atlanta Games. It bears a 1995 copyright date.
This is the official Olympic branded Barbie, with the Olympic logo on her gymnast track suit and gym bag. She won the gold medal, of course, and that's included. Barbie also comes with a gymnastic streamer, hair brush, and a magical tumbling ring for somersaults, cartwheels and more!
The window box is in great shape and near mint condition, measuring 12 3/4″ x 6 1/2″ x 2 3/8″ No rips, tears or dents.
Photos are of actual item. Climate controlled storage and minimally handled. Sold as is. Only one available.
1 in stock
Here's some other cool stuff you might like...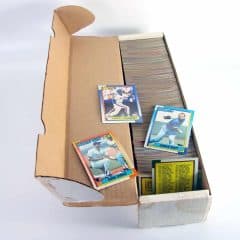 1990 Topps MLB Pro Baseball Collector Card 700+ pc. Set
Year: 1990
Manufacturer: Topps
Condition: Near mint cards
First edition vintage collectable
If you grew up watching baseball in the 80's and 90's, this set of over 700 cards are a trip down memory lane. Frank Thomas, Darryl Strawberry, Kirby Puckett, George Brett, Frank Viola and hundreds more. The cards are in like new condition, well printed, hardly handled with nice sharp corners. Someone did a whole lot of collecting so you don't have to. The set includes a total of 710 cards with checklists.
The box is 15 1/2″ x 4″ x 2 3/4″ and is in fair shape.
Photos are of actual items. Climate controlled storage and minimally handled. Sold as is. Only one set available.
$

99.00
Add to cart