1996 Mars Attacks Martian Brain Disintegrator in box
$94.00
Year: 1996
Manufacturer: Trendmasters Item 30722
Condition: Mint condition toy
First edition vintage collectable
Mars Attacks stands out as an inventive, quirky Tim Burton movie which combines every UFO rumor, conspiracy and coverup (including Slim Whitman!) combined into a highly original "B" sci-fi movie. The toys released in conjunction with the movie are all considered very collectable and are notable for their quality design. Alien in 1st Edition Blue Box is early pre-release artwork and more rare.
The Martian Brain Disintegrator has classic 50's style retro design, with lots of cool features, including 3 different brain-sucking sounds and another control which speeds up and slows down the sound effects. The front of the ray gun lights up, and undoubtably the best feature is the pink brain, which lights up from inside. This Disintegrator is emerald green, 12″ long and made of heavy sculpted plastic. As it says on the package, "Blazing Lights! Horrid Sounds! Throbbing Brain!" Requires 2 AA batteries, which are included.
The package is 9″ x 11″ x 2 1/2″ and is in fairly good condition, with a small tear on the left half where the package is die-cut. Otherwise it's in great shape overall. Photos are of of actual item. Climate controlled storage and minimally handled. Sold as is. Only 1 available.
1 in stock
Here's some other cool stuff you might like...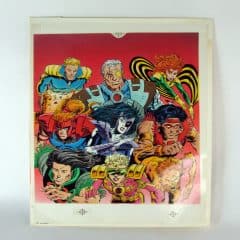 1994 Marvel XMEN Pogs Signed Airbrushed Production Art Set of 3
Year: 1994
Artists: Mike Zeck and Scott Koblish
Condition: Excellent condition
Original art vintage collectable
This is a rare one of a kind item, a set of 3 pieces of ORIGINAL X-MEN ART from 1994. each featuring 8 X-Men characters in unique groupings. This original art was created as part of a kids meal promotion program for Target Store's Food Avenue in-store restaurants. The artwork was used to create sets of X-MEN HERO CAP POGS. This was at the height of the milk cap pog craze during the 1990's.
The set includes 3 old school, pre-computer artboards, each measuring appx. 12 1/2" x 14 1/2" in size, airbrushed and color pencil art with ink stat overlays. Each board is signed by the artists, Mike Zeck and Scott Koblish. Zeck went on to work on Spiderman, Captain America, and other projects. Koblish has gone on to work on Deadpool, Spiderman and more cool stuff.
Of course, the artwork was turned into pogs, so as a bonus, you'll receive TWO SETS of each of the 3 finished pogs, along with an original counter card sales piece made for Target stores to promote the X-Men pog sets. The set includes a letter of provenance from the art director of the project, attesting to the originality of the X-Men art.
Artwork 1: Cyclops, Gambit, Psylocke, Rogue, Beast, Wolverine, Jubilee and Professor X.
Artwork 2: Storm, Archangel, Banshee, Bishop, Iceman, Sabretooth, Moira, Professor X and Jean Grey.
Artwork 3: Cannonball, Cable, Siryn, Shatterstar, Donino, Warpath, Rictor, Boomer and Feral.
Framing is available. Click on the Ask Us A Question button at the top of this or any page for a quote.
Also available: X-Men mobile dangler and X-Men in-store poster, used to promote the program inside Target stores. The mobile measures 14 1/2″ x 20" and is die-cut in a big X shape. It's very cool. The poster measures an oversize 18″ x 26″ and is on heavy card stock. These are oversized items and require additional shipping costs. Please email us for a quote for the mobile dangler and poster.
$

1,400.00
Add to cart