1995 Toy Story Buzz Lightyear Talking Bank mint in box
$178.00
Manufacturer: Thinkway Item 62853
Condition: Mint figure and mint box
First edition vintage collectable
This is the original 1st edition vintage Buzz Lightyear Electronic Talking Bank, featuring the original voice of Buzz Lightyear, Tim Allen. This 12" molded plastic figure is finely detailed with insignias and nametag and green glow-in-the dark paint on his chest and body trim. Insert a coin to make Buzz salute as he turns side to side at the waist. Complete with snap on wings. This was high tech in 1995!
Buzz speaks two phrases when any coin is inserted: "I am Buzz Lightyear. I protect the galaxy from the threat of invasion. I come in peace!" and "This is an intergalactic emergency. Buzz Lightyear to the rescue!", Uses 3 AA batteries which have been replaced to activate all the original light, sound and motion features.
The package measures 12" x 8 1/4" x 7 1/2" and is in mint condition including the original clear wraparound window. The top flap has a slight crease. Photos of other Toy Story items decorate the package. Photos are of of actual item. Climate controlled storage and minimally handled. Sold as is. Only one available.
Out of stock
Here's some other cool stuff you might like...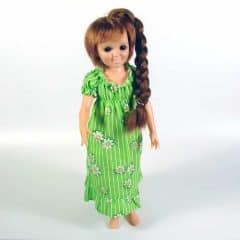 1970 Talking Crissy Pull String Doll
Year: 1970
Manufacturer: Ideal Toy Corporation
Condition: Good condition
First edition vintage collectable
Some girls loved Barbie, but just as popular in the 1970's was the Crissy doll. The Crissy doll was made by Ideal Toy Corporation from 1969 to 1974. She was wildly popular because of her unique ability to "grow hair" with a push of a button on her tummy, and shorten it with a twist of a knob located on her back. Crissy was designed to be much larger than Barbie, too, at 18" tall. This Crissy is wering her original green flower dress. This model was made in 1970. The date on her head is 1969, which is the date on all Crissy heads from 1969 to 1972.
This Crissy does not come with her wardrobe. See our other Crissy doll if you want the wardrobe.
Crissy says 12 phrases randomly when her string is pulled. The voice works but is not perfect. See the video below to hear the voice.
"Hi, I'm Crissy!"
"Let's have a party."
"Brush my hair please."
"Please dry my hair."
"Make my hair short."
"Make my hair long."
"My hair grows."
"I love you".
"I've got a secret."
"I like to dress up."
"Set my hair please".
"Velvet talks too."
Photos are of of actual item. Climate controlled storage and minimally handled. Sold as is. Only one available.
$

57.00
Add to cart