1995 Sapphire Dream Barbie in box
$44.50
Year: 1995
Manufacturer: Mattel
Condition: Excellent condition figure and fair condition box
First Edition Vintage collectable
Here is Barbie from the Limited Edition Society Style Collection from 1995 featuring Barbie in a purple velvet ball gown dress, earrings and diamond hip pin.
The packaging is 10" x 14" x 3" and is in fair condition with wrinkles and creases on most sides, but no rips or tears. She has never been removed from the box. Includes certificate of authenticity. 
Photos are of of actual item. Climate controlled storage and minimally handled. Sold as is. Only one available.
1 in stock
Here's some other cool stuff you might like...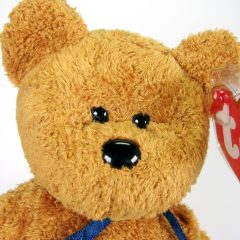 1999 TY Beanie Babies "Fuzz"
Year: 1999
Manufacturer: Ty
Condition: Near mint condition
First edition vintage collectable
Look closely at this handsome bear
His texture is really quite rare.
With golden highlights in his hair
He has class, style and flair!
Fuzz is an adorable Beanie from 1999. Fuzz measures 9″ tall, 6″ seated and is complete with a dark blue ribbon around his neck. He has black eyes and a black nose. Fuzz was released on 1st January 1999. His birthday is on 23 of July 1998. He retired on 23rd December 1999. Fuzz has his original Ty tags. The tushy tag does not have a factory number on the inside of the loop. See photos for details on tag errors.
Photos are of actual item. Purchased at auction of a retail gift store owner's private collection of rarities, never offered at retail. Climate controlled storage and minimally handled. Sold as is. Only a few available.
$

19.00
Add to cart