1995 Power Rangers 12 Month Calendar
$40.00
Year: 1995
Manufacturer: Saban Entertainment /Landmark
Condition: Near mint condition
First Edition Vintage collectable
Five ordinary teenagers have been chosen by Zordon to save the world from Evil Space Aliens. Using their magical Power Morphers, the teens call on the spirits of the ancient dinosaurs and transform into the incredible Power Rangers.
This is the first edition collectable Power Rangers 12 month full color calendar. 12″ x 12″ in size, it opens up to 24" tall and features including original Yellow Ranger Thuy Trang. The corners are clean, the artwork is bold and crisp. It looks as good as new, with no writing or other markings. This calendar features the original cast.
Photos are of actual item. Climate controlled storage and minimally handled. Sold as is. Only one available.
1 in stock
Here's some other cool stuff you might like...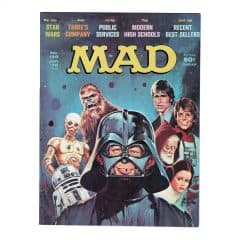 1977 STAR WARS MAD / Cracked Magazines Set of 3
Year: 1977
Manufacturer: Mad Magazine, Cracked Magazine
Condition: Good condition
1st edition vintage collectable
AUTHENTIC ORIGINAL PUBLICATIONS FROM 1977
First edition vintage collectables
MAD was the premier humor magazine for decades, and in 1977 they were at the top of their game with a satire of STAR WARS. MAD No.196 from January 1978 STAR ROARS features Lube Skystalker, Princess Laidup, Ham Yoyo, Chewbacco, Oldie Von Moldie, the robots Barstool and Cree-Pio, and the rest of the STAR WARS universe as only MAD Magazine could imagine it! Great cover with Alfred E. Neuman as the Evil Zader!
MAD Magazine No. 203 from December 1978 features "The Force and I", a STAR WARS Musical. Funny stuff! Both MADS feature great cover art paintings by MAD artist Jack Rickard.
BONUS!: FREE STAR WARS CRACKED MAGAZINE included. Cracked was a big rival of MAD back then, and did their own pardody of STAR WARS characters. Included is Cy-Threepiu and Arty-Ditto's "A Souvenir Photo Album of their Visit to Earth",  a full color inside front and back cover painting by Powers featuring the "STAR BAR" Cantina with the aliens all laughing at Sylvester P. Smythe, CRACKED Magazine's janitor and cover boy! Cover date of January 1978. All 3 are in fair to good shape, some edge wear and corner rounding and a slight tear in the CRACKED back cover but otherwise in good shape with all interior artwork intact.
$

107.00
Add to cart