1995 Power Rangers 12 Month Calendar
$40.00
Year: 1995
Manufacturer: Saban Entertainment /Landmark
Condition: Near mint condition
First Edition Vintage collectable
Five ordinary teenagers have been chosen by Zordon to save the world from Evil Space Aliens. Using their magical Power Morphers, the teens call on the spirits of the ancient dinosaurs and transform into the incredible Power Rangers.
This is the first edition collectable Power Rangers 12 month full color calendar. 12″ x 12″ in size, it opens up to 24" tall and features including original Yellow Ranger Thuy Trang. The corners are clean, the artwork is bold and crisp. It looks as good as new, with no writing or other markings. This calendar features the original cast.
Photos are of actual item. Climate controlled storage and minimally handled. Sold as is. Only one available.
1 in stock
Here's some other cool stuff you might like...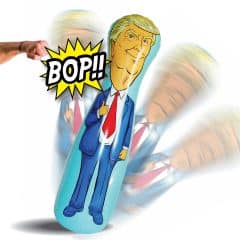 2017 Donald Trump Presidential Bop Bag and Bonus Putin Whoopie Cushion
Year: 2017
Manufacturer: 1st Dog
Condition: Mint condition
First edition vintage collectable
No longer available for sale, this is a collectable part of American history. There's never been a more controversial figure than the current President, Donald Trump. His motto is when someone punches, he punches back twice as hard. With the Donald Trump Presidential Bop Bag, now you can punch back again and again. This is a 48″ tall professionally drawn caricature of Trump drawn by artist Sheila Zwettler, in full color, both front and back.
The bop bag is a dual chamber design. Fill the upper chamber with air, and fill the lower portion with sand or water to weigh it down. Give it a punch and it pops right back up for more! When he goes low, you go high! Trump-based humor on the packaging makes this a hysterical historical collectable.
INCLUDES FREE BONUS: Pootin' Putin Whoopie Cushion. 6″ diameter limited editon collectable. Sit on his face and he farts (in Russian).
Photos are of of actual item. Climate controlled storage and minimally handled. Sold as is. Limited number available.
$

91.00
Add to cart