1994 Jewel Princess Barbie in box
$65.00
Year: 1994
Manufacturer: Mattel
Condition: Excellent condition figure and box
First Edition Vintage collectable
Here is Barbie from the Limited Edition Winter Princess Collection from 1994. The Jewel Princess is now a quarter century old, believe it or not! Barbie is wearing a red ball gown with a plaid skirt, velvet top, fur muff and velvet beret. She is dressed for a night at the ball!
The packaging is 10" x 14" x 3" and in very good condition with no rips or tears. There is some very minor shelf wear. She has never been removed from the box. Includes certificate of authenticity. 
Photos are of of actual item. Climate controlled storage and minimally handled. Sold as is. Only one available.
1 in stock
Here's some other cool stuff you might like...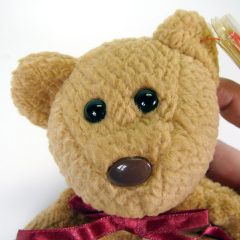 1996 TY Beanie Babies "Curly"
Year: 1996
Manufacturer: Ty
Condition: Near mint condition
First edition vintage collectable
A bear so cute with hair that's Curly
you will love and want him surely
To this bear always be true
He will be a friend to you!
From 1996, it's the very collectable Curly Beanie from Ty. Curly measures 9″ tall, 6″ seated and is complete with a dark red ribbon around his neck. He has black eyes and a brown nose. Curly was released on 15th June 1996. His birthday is on 12th April 1996. He retired on 31st December 1998. Curly has his original Ty tags. The tushy tag does not have a factory number on the inside of the loop. See photos for details on tag errors.
Photos are of actual item. Purchased at auction of a retail gift store owner's private collection of rarities, never offered at retail. Climate controlled storage and minimally handled. Sold as is. Only a few available.
$

29.00
Add to cart