1992 Oscar Mayer Weinermobile Bank
$40.00
Year: 1992
Manufacturer: Unknown
Condition: Mint condition
First Edition Vintage collectable
Oh I wish I were an Oscar Mayer weiner, that is what I'd truly like to be, 'cuz if I were an Oscar Mayer weiner, everyone would be in love with me! If you grew up in the 50's, 60's or 70's, you know this song by heart! This is a larger size 10" long plastic molded weinermobile bank, with working wheels and the Oscar Mayer logo on the side.
Photos are of actual item. Climate controlled storage and minimally handled. Sold as is. Only one available.
1 in stock
Here's some other cool stuff you might like...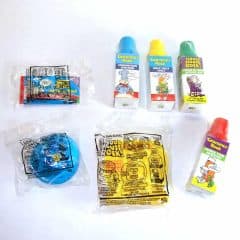 1998 Schoolhouse Rock Kids Meal Toys Complete Set of 7
Year: 1998
Manufacturer: Long John Silvers
Condition: Mint condition
First Edition Vintage collectables
Everyone remembers Schoolhouse Rock, the enduring educational children's series. First appearing in 1973, the series continues to be popular today. This is the COMPLETE SERIES of vintage Schoolhouse Rock toys included in Long John Silver's kids meal program over two decades ago. The collection is filled with lots of memorable Schoolhouse Rock lessons, including Conjunction Junction (what's your function?) Interplanet Janet, Lolly Lolly Lolly (get your adverbs here!) and much more.  These are original items from the personal collection of the designers who created the toys for Long John Silvers. All items are sealed or shrinkwrapped in their original packages in great condition. Vintage Schoolhouse Rock items are very collectable and this is a hard to find rare complete set.
Photos are of of actual items. Climate controlled storage and minimally handled. Sold as is. Only one set available.
Set contains all this:
America Rock – Animated Flip Book with Crayons
Computer Rock – Mr. Chips Computer Quiz Machine with 2 rotating quiz cards
Science Rock – Inerplanet Janet Crayons and Earth Templates
Grammer Rock – 4 Coloring Rolls with Crayons and Sharpener with embossed Schoolhouse Rock logo. A total of 16 feet of artwork!
– Conjunction Junction
– Unpack Your Adjectives
– Lolly Lolly Lolly (Get Your Adverbs Here)
– Interjections
$

44.00
Add to cart