1992 Oscar Mayer Weinermobile Bank
$40.00
Year: 1992
Manufacturer: Unknown
Condition: Mint condition
First Edition Vintage collectable
Oh I wish I were an Oscar Mayer weiner, that is what I'd truly like to be, 'cuz if I were an Oscar Mayer weiner, everyone would be in love with me! If you grew up in the 50's, 60's or 70's, you know this song by heart! This is a larger size 10" long plastic molded weinermobile bank, with working wheels and the Oscar Mayer logo on the side.
Photos are of actual item. Climate controlled storage and minimally handled. Sold as is. Only one available.
1 in stock
Here's some other cool stuff you might like...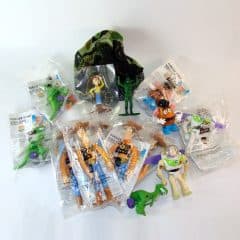 1995 Toy Story Burger King Kids Meal Toys 15 pc. Misc. Set
Year: 1995
Manufacturer: Disney / Burger King
Condition: Very good to mint condition
First edition vintage collectables
This is a 15 pc. set of kids meal toys. A majority are from the original Toy Story movie. Most of the item were released when the original movie came out in 1995, so they are first edition collectables. This is an incomplete set but there are multiples of some of the items such as Woody. If you're looking for miscellaneous figures to complet your first edition of Burger King Toy Story toys, this is for you!
Set includes:
5 Woody 6″ tall plush figures each sealed in polybag
1 Buzz Lightyear 4″ tall figure with pop-out wings sealed in polybag
3 Rex the Dinosaur press and go rollers – 2 sealed, 1 loose with no polybag
2 Mr. Potatohead walking figures – 1 sealed, 1 loose with no polybag
1 Army Man Paratrooper with Parachute open polybag
Bonus miscellaneous figures:
1 McDonalds Jessie 5″ figurine with rope in open polybag from Toy Story 2 (not shown)
1 McDonalds Prospector with barrel 5″ in open polybag from Toy Story 2 (not shown)
1 General Mills Cereal Woody 3″ figure sealed in polybag from the 1st Toy Story movie.
$

47.00
Add to cart