1992 Cyber Wars Raybot in box
$129.00
Year: 1992
Manufacturer: Trendmasters
Condition: Excellent condition
First edition vintage collectable
This is an early robot from Trendmasters, one of a series of 3 Raybots. This one is named "Gunner", described as a sharpshooter extraordinaire. Gunner is 7 1/2″ tall and his arms and hands are poseable and rotatable. His original flip-up guns are mounted on his arms and his shoulder armor is adjustable. His internal chest circuitry lights up and blinks. Gunner has 6 buttons on his chest, each of which makes a different robotic voice commands or electronic battle sound.
The box is 7″ x 3 1/2″ x 9″ and in good condition with slight shelf wear on the box corners with minor dent on lower left corner. Item was removed from original packaging for testing and photography.
Photos are of actual item. Climate controlled storage and minimally handled. Sold as is. Only one available.
1 in stock
Here's some other cool stuff you might like...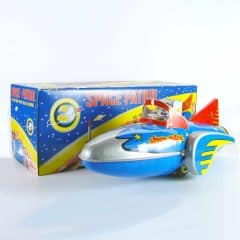 1970's Space Patrol Rocket Ship with Robot Pilot in box
Year:1970's
Manufacturer: Metalmania
Condition: Very good condition
First edition vintage collectable
This is a bright, colorful, very cool classic 50's style spaceship piloted by a classic blockhead style robot. There is no copyright date on the item or box, but it was purchased in 1981, so it's likely from the 1970's or earlier. The entire toy is made of lithographed tin, except for a plastic steering wheel and windshield. It's a "friction" style toy with an internal wind-up motor. Give it a push and it makes a clicking sound as it rolls. The paint job is in very good condition, with some minor wear marks on the nose and one side fin. The windshield is still crystal clear.
The outer box is classic retro artwork, measures 13 1/2″ x 4 1/2″ x 5″. The box is in great shape, with very minor wear shelf wear mostly on the corners. There are no tears or repairs. Photos are of of actual item. Climate controlled storage and minimally handled. Sold as is. Only 1 available.
$

110.00
Add to cart