1992 Cyber Wars Raybot in box
$129.00
Year: 1992
Manufacturer: Trendmasters
Condition: Excellent condition
First edition vintage collectable
This is an early robot from Trendmasters, one of a series of 3 Raybots. This one is named "Gunner", described as a sharpshooter extraordinaire. Gunner is 7 1/2″ tall and his arms and hands are poseable and rotatable. His original flip-up guns are mounted on his arms and his shoulder armor is adjustable. His internal chest circuitry lights up and blinks. Gunner has 6 buttons on his chest, each of which makes a different robotic voice commands or electronic battle sound.
The box is 7″ x 3 1/2″ x 9″ and in good condition with slight shelf wear on the box corners with minor dent on lower left corner. Item was removed from original packaging for testing and photography.
Photos are of actual item. Climate controlled storage and minimally handled. Sold as is. Only one available.
1 in stock
Here's some other cool stuff you might like...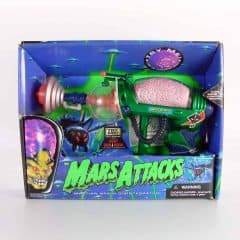 1996 Mars Attacks Martian Brain Disintegrator in box
Year: 1996
Manufacturer: Trendmasters Item 30722
Condition: Mint condition toy
First edition vintage collectable
Mars Attacks stands out as an inventive, quirky Tim Burton movie which combines every UFO rumor, conspiracy and coverup (including Slim Whitman!) combined into a highly original "B" sci-fi movie. The toys released in conjunction with the movie are all considered very collectable and are notable for their quality design. Alien in 1st Edition Blue Box is early pre-release artwork and more rare.
The Martian Brain Disintegrator has classic 50's style retro design, with lots of cool features, including 3 different brain-sucking sounds and another control which speeds up and slows down the sound effects. The front of the ray gun lights up, and undoubtably the best feature is the pink brain, which lights up from inside. This Disintegrator is emerald green, 12″ long and made of heavy sculpted plastic. As it says on the package, "Blazing Lights! Horrid Sounds! Throbbing Brain!" Requires 2 AA batteries, which are included.
The package is 9″ x 11″ x 2 1/2″ and is in fairly good condition, with a small tear on the left half where the package is die-cut. Otherwise it's in great shape overall. Photos are of of actual item. Climate controlled storage and minimally handled. Sold as is. Only 1 available.
$

94.00
Add to cart