1991 Champion Auto Flag Champ Man Bendee in bag
$15.00
Year: 1991
Manufacturer: Russ Berrie
Condition: Mint condition
First edition vintage collectable
How's this for a unique item? It's Champion Auto Store's Flag Champ Man, who has a flag for a head! This item is tagged with the vintage Russ Berrie logo (now called Kid Brands). He's a 6 inch tall supersize bendee, dressed in his work uniform and sporting the Champion Auto logo both front and back. We have one Flag Champ man packaged in his original packaging, After the packaged version is sole, subsequent orders will receive the unwrapped version.
Photos are of of actual items. Climate controlled storage and minimally handled. Sold as is.
12 in stock
Here's some other cool stuff you might like...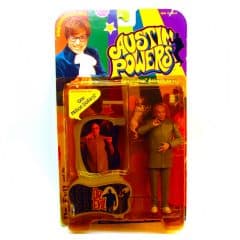 1999 Austin Powers Ultra-Cool Talking Action Figure Dr. Evil and Mr. Bigglesworth in Package
Year: 1999
Manufacturer: McFarlane Toys
Condition: Mint condition
First edition vintage collectable
It's Austin Powers arch villian Dr. Evil in a rare orange tinted blister package. The first movie is now over 20 years old and original figures are becoming more and more collectable. This package features a 6″ tall Dr. Evil and his cat, Mr. Bigglesworth. Comes with a money packet labelled '$1 million'. Dr. Evil says his most famous catch phrase, "One million dollars!"
The package is in very good condition. The upper right corner has a small scratch on the front, a wrinkle in the cardboard about an inch long on the back, and there is slight shelf wear on the bottom corners, but overall it's in really good shape. Austin is about 6" tall, and in his original packaging, which is in mint condition. Mike Meyers provides the voice, which is in the base. The tab has never been pulled.
Photos are of of actual item. Climate controlled storage and minimally handled. Sold as is. Only one available.
$

59.00
Add to cart