1990's Peanuts Mugs Set of 2 in Boxes
$30.00
Year: 1990's
Manufacturer: Westland Giftware
Condition: Very good condition mugs, good condition boxes
First edition vintage collectable
This is a set of wonderfully whimsical Peanuts Thru the Years mugs in their original boxes. Each ceramic mug is painted and glazed, featuring Charles Schulz artwork of Snoopy and Lucy each decade from the 1950's to the 1990's Each mug is 3 3/4" tall x 4″ di. with no chips, cracks or staining.
The boxes are 6″ x 5 1/4″ x 5 1/2″ each and encase the mugs in foam for safe shipping. Both boxes have signs of shelf wear and one has a couple tears on the top lid and a minor corner dent, but are very giftable. This set of mugs will make anyone smile!
Photos are of of actual item. Climate controlled storage and minimally handled. Sold as is. Only one set available.
1 in stock
Here's some other cool stuff you might like...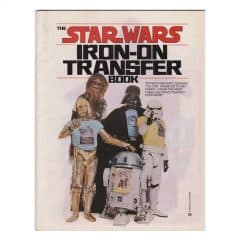 1977 STAR WARS Iron-On Book
Year: 1977
Manufacturer: Ballantine
Condition: Good condition
1st edition vintage collectable

AUTHENTIC ORIGINAL PUBLICATION FROM 1977
Original book with set of sixteen fantastic designs you can transfer to any fabric. Kid and adults everywhere wore these t-shirts in 1977 and beyond. Condition is good, however, the images have transferred slightly, causing a ghosting effect to the backs of some of the other transfer pages, but they're still all there in original vibrant colors.
(Disclaimer: These are 40 year old iron-on transfers from the '70s. Using these as working iron-ons is not recommended and is highly doubtful to transfer as originally intended.) But the art is still crisp and clean and classic STAR WARS. Only one book available.
$

240.00
Add to cart