1990's Peanuts Mugs Set of 2 in Boxes
$30.00
Year: 1990's
Manufacturer: Westland Giftware
Condition: Very good condition mugs, good condition boxes
First edition vintage collectable
This is a set of wonderfully whimsical Peanuts Thru the Years mugs in their original boxes. Each ceramic mug is painted and glazed, featuring Charles Schulz artwork of Snoopy and Lucy each decade from the 1950's to the 1990's Each mug is 3 3/4" tall x 4″ di. with no chips, cracks or staining.
The boxes are 6″ x 5 1/4″ x 5 1/2″ each and encase the mugs in foam for safe shipping. Both boxes have signs of shelf wear and one has a couple tears on the top lid and a minor corner dent, but are very giftable. This set of mugs will make anyone smile!
Photos are of of actual item. Climate controlled storage and minimally handled. Sold as is. Only one set available.
1 in stock
Here's some other cool stuff you might like...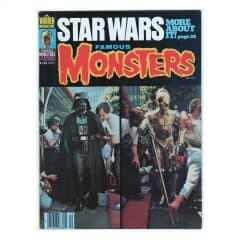 1977 -78 STAR WARS Famous Monsters Magazines Set of 5
Year: 1977, 1978
Manufacturer: Warren
Condition: Very good condition
1st edition vintage collectable
AUTHENTIC ORIGINAL SET FROM 1977 AND 1978
First edition vintage collectable
Steven King is a big fan of Famous Monsters of Filmland, a magazine he says changed his life. Several issues of Famous Monsters were dedicated to the original 1977 Star Wars movie including full color covers. Plus, each issue contains really cool stories and photos from hundreds of other sci-fi movies including Close Encounters to Attack of the 50 Foot Woman. Plus lots of great ads for offers including masks, makeup and much much more for STAR WARS and other sci-fi / monster movies of filmland!
Each FM is 8 1/2″ x11, packed full of 50 to 132 pages of amazing photos and stories. Published by Warren. Also includes a Science Fantasy Winter 1977 issue with lots more STAR WARS photos and stores. All together a STAR WARS / monster mash oveload! Only one copy of each available and then they're gone! Sold as a set of 5.
FAMOUS MONSTERS ISSUE #137 STAR WARS SPECTACULAR SEPT 77 50 pages all STAR WARS
FAMOUS MONSTERS ISSUE #138 STAR WARS OCT 77 98 pages w/ R2-D2 cover painting by Don Maitz
FAMOUS MONSTERS ISSUE #139 STAR WARS DEC 77 74 pages w/ Darth Vadar / C-3P0 Hollywood Walk of Fame cover
FAMOUS MONSTERS ISSUE #142 STAR WARS – APR 78 132 pages w/ Darth Vadar fold-out cover
SCIENCE FANTASY ISSUE CDC-00205 FEATURING STAR WARS 22″ X 32″ Poster – Winter 1977 70 pages
All in very good shape with a few light bend marks.
$

114.00
Add to cart