1990's Empire State Building
$28.00
Year: 1990's
Manufacturer: Colbar Art Company
Condition: Very good condition
First edition vintage collectables
This is 8" of the Empire State Building in New York City. Made by the world famous Colbar Art Company. Made in the USA. It was purchased in New York City at the Empire State Building Gift Shop. Made of heavy cold cast resin with a felt base.
Photos are of of actual item. Climate controlled storage and minimally handled. Sold as is. Only one available.
1 in stock
Here's some other cool stuff you might like...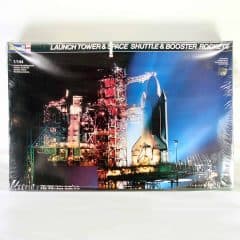 1986 Revell Space Shuttle 1/144 Model Kit in box
Year: 1986
Manufacturer: Revell – Item# 4911
Condition: Very good condition
First edition vintage collectable
This is vintage model making on a MASSIVE scale! a true collector's item, this is the 1986 Space Shuttle, manufactured before the Challenger disaster. The kit contains name customization slide-off decals of the entire shuttle fleet, including the Challenger, as well as the Columbia, which also met tragedy 17 years later. The Space Shuttle fleet's last flight was in 2011, and this incredible shuttle model kit is also a part of history now.
When assembled, the model is a 1/144 scale model of the Space Shuttle, Launch Tower and Shuttle complex, ready for launch from Launch Pad 39 at the Kennedy Space Center at Cape Canaveral Florida.
This is a highly detailed kit over 2 feet tall when assembled, with a crawler launch tower, moveable access arms and retracting rotating crane structure. The shuttle has opening payload doors, external fuel tank and dual rocket motors, a moveable Canada robot arm, and more. Detailed instructions for assembly, painting and decal application.
The shrink wrap has never been removed from the box, so the internal contents are still in their original bags. Most of the photos are from other sources, showing the way the box looks when first opened, how it looks unassembled, as well as the fully assembled kit. This kit is unopened and unassembled.
The box measures 20″ x 30″ x 5″. The shrink wrap is a little beat up and torn primarily on the corners, but the printing on the box is in very good shape and preserved from being in a plastic bag most of the last 30 years. The shrink wrap contracted over the years, making one large wrinkle on the front of the box, but it's unlikely to have affected the contents.
Photos are of of actual item. Climate controlled storage and minimally handled. Sold as is. Only one available.
$

899.00
Add to cart