1990 Topps MLB Pro Baseball Collector Card 700+ pc. Set
$99.00
Year: 1990
Manufacturer: Topps
Condition: Near mint cards
First edition vintage collectable
If you grew up watching baseball in the 80's and 90's, this set of over 700 cards are a trip down memory lane. Frank Thomas, Darryl Strawberry, Kirby Puckett, George Brett, Frank Viola and hundreds more. The cards are in like new condition, well printed, hardly handled with nice sharp corners. Someone did a whole lot of collecting so you don't have to. The set includes a total of 710 cards with checklists.
The box is 15 1/2″ x 4″ x 2 3/4″ and is in fair shape.
Photos are of actual items. Climate controlled storage and minimally handled. Sold as is. Only one set available.
1 in stock
Here's some other cool stuff you might like...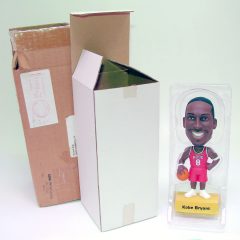 2003 Kobe Bryant Bobblehead from Nutella
Year: 2003
Manufacturer: Nutella / Upper Deck Collectibles
Condition: Mint condition figure in original mailing packages
First edition vintage collectable
Kobe is now a part of history, and so is this is a rare Kobe Bryant bobblehead which was available by mail-in offer through Nutella in 2003. The bobblehead was made by Upper Deck. He's wearing his original Laker jersey no. 8. The figure of Kobe is just under 7″ tall and is well made and nicely detailed. The figure is still in his original plastic tray, white packing box, and the original mailing box. It also includes the original letter from Nutella with the Nutella logo. As a special bonus, you'll receive the Sunday paper ad for ordering the bobblehead (minus the coupon, which had to be cut out and mailed in with a Nutella UPC proof of purchase).
The package measures 8″ x 3 /12″ x 3 1/2″ and is a plain white box. The outer mailing package is slightly larger and has the original mailing stamp- 81.8 cents to ship! Photos are of of actual item. Climate controlled storage and minimally handled. Sold as is. Only one available.
$

260.00
Add to cart