1990 Beetlejuice Snake Mask in box
$69.00
Year: 1990
Manufacturer: Kenner
Condition: Very good condition
First edition vintage collectable
"Whoa! Maybe I should use a different shampoo!" It's Michael Keaton's character Beetlejuice in a unique snake mask design. This is a totally retro collectable toy with a surprise function. First, it's Beetlejuice himself, wild frazzle hair, blackened eyes and big ugly teeth in a well designed half mask with adjustable strap which fits both kids and adults. The mask has a hidden bulb and air hose, that when squeezed, makes three snakes pop out of the hair, just like in the movie. The pop-up feature still works and makes for a great laugh!
The package has bright illustrations and the Beetlejuice logo. The box has a few corner dings and a slight crease down one side, but it's still in great shape. Some of the original tape on the box has yellowed slightly. The box measures 9 1/2" x 7" x 5".
Photos are of of actual item. Climate controlled storage and minimally handled. Sold as is. Only one is available.
1 in stock
Here's some other cool stuff you might like...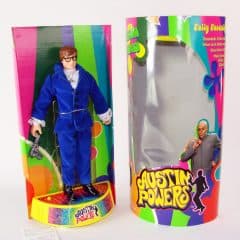 1998 Austin Powers Poseable Talking Figure in Box
Year: 1995
Manufacturer: Trendmasters
Condition: Mint condition in mint package
First edition vintage collectable
Women want him… men want to be him… he's the International Man of Mystery! And now you can have the one and only Austin Powers Talking Action Figure! This figure was released to coincide with the first Austin Powers movie. Austin is looking totally shagadelic in his blue velvet suit, ruffle shirt, horn-rim glasses, male symbol necklace, pistol, and Union Jack underwear! He even has a hairy chest, and oh, those teeth! This is an amazingly detailed figure and fully poseable arms and legs. 9" tall figure standing on a 1" base with a speaker.
Mike Meyers provides the original voice for 4 of his favorite sayings: "Very shagadelic!", "Smashing baby!", "Oh, behave!", "Yeah, baby!" and can be played without removing Austin from his groovy pad. Very rare and very collectable.
Austin's "package" is impressive as well, a full 12 1/2″ tall x 6″ x 3″ and covered in a psychedelic explosion of colors and photos of Austin, Dr. Evil, and one of the Fembots. Mint condition. Photos are of of actual item. Climate controlled storage and minimally handled. Sold as is. Only one available. Yeah baby!
$

96.00
Add to cart