1989 Batman Projector Gun in box
$69.00
Year: 1989
Manufacturer: Toy Biz
Condition: Mint condition toy
First edition vintage collectable. New batteries included!
Here's a cool vintage toy released to coincide with the 1989 Batman movie starring Jack Nicholson and Michael Keaton, both featured on the front of the box. The Batman Projector Gun has the official Batman movie logo and 80's styling.
To use, insert one of the 4 image discs. Aim the projector gun at any wall and project one of 32 scenes from the movie with stars like Kim Bassinger, Jack Palance, and even projects the Bat Signal up to 4 feet square from a distance of 1 to 15 feet. Coo!! The projector gun measures almost 11 inches long. It uses 2 "C" batteries and we'll put fresh ones in so you're ready to watch classic Batman!
The box measures 13" x 71/2" x 3" and has some corner wear and there's a cut in the box, but it's in great shape for giving or collecting. Includes the original plastic tray insert. The image discs have never been removed from their sealed bag so everything is like new.
Photos are of actual item. Climate controlled storage and minimally handled. Sold as is. Only one available.
1 in stock
Here's some other cool stuff you might like...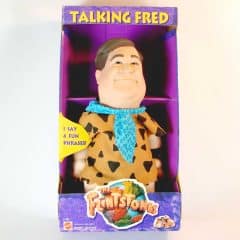 1993 Fred Flintstone Talking Plush mint in box
Year: 1993
Manufacturer: Mattel
Condition: Mint figure and box
First edition vintage collectable
You can't get much more vintage than caveman times! It's the one and only hilarous John Goodman as Fred Flintstone from the original live action 1993 movie. Cuddly and soft, 15 1/2" tall Fred is wearing his classic sabertooth caveman outfit with blue tie and not much else. Yabba Dabba Doo! Fred says four phrases: "Wilma!", "Down Dino Down!", "Yabba Dabba Doo!", and "Barney You're My Best Pal." This is not a pull-string, and requires one AA battery.
The box is 18" x 9" x 4" and in excellent condition. The edges of the packaging look rough in the photos, but the graphics were created that way on purpose for an authentic "prehistoric" look. Includes the original instruction booklet. Photos are of of actual item. Climate controlled storage and minimally handled. Sold as is. Only one available.
$

80.00
Add to cart