1987 Hardees California Raisins Figurines Set of 4
$75.00
Year: 1987
Manufacturer: Hardees, California Raisin Board
Condition: Very good condition
First edition vintage collectable
It's the original California Raisins! This set was first offered over a third of a century ago in 1987 by Hardees to promote Hardees cinnamon raisin rolls and helped usher in the golden age of fast food collectables. Each figure is about 2″ tall and hand painted, with 1987 CALRAB trademark on the feet . These are getting more rare every day.
Photos are of actual items. Climate controlled storage and minimally handled. Sold as is. Only one set available.
1 in stock
Here's some other cool stuff you might like...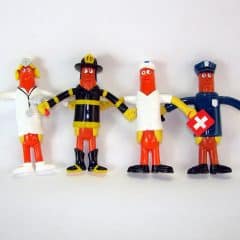 2002 Nathan's Famous Franksters "A Tribute to Heroes" 9/11 Bendees Collector Set of 4 in Packages
Year: 2002
Manufacturer: Kids Concepts / Nathan's Famous
Condition: Mint condition bendees and packaging
First edition vintage collectable set
Here is a very rare complete set of four bendee figures, originally released on the first anniversary of 9/11 by Nathan's Famous, a New York City icon for more than a century. Nathan's Famous has offered many Frankster bendees over the years, but these are by far the most rare. These are the only fast food kids toys (and ANY type of toy for that matter), designed specifically to commemorate NYC first responders of Sept. 11, 2001.
Each of the four bendees is about 4″ tall and features authentically styled vintage uniforms of the day, honoring the NYC Police, Fire Department, medical doctors and EMS responders. Each figure iis still sealed in it's original poly bag. These are designer's proof sets and include an original hand signed certificate of history and authenticity. This is a unique momento of a truly world-altering historical event and can't be found anywhere else. After two decades only a few sets are left. Once they're gone, they're gone.
Photos are of of actual items. Climate controlled storage and minimally handled. Sold as is.
$

99.00
Add to cart