1987 Disney Original One of a Kind Framed Pencil Drawings Set of 3
$185.00
Year: 1987
Artist: Disney Studio Artist
Condition: Very good condition
Original vintage collectable
This is a set of 3 framed and matted Disney concept drawings originally drawn for a school foodservice promotion program by Mello Smello, and drawn by production artists at Disney Studios in Burbank. The pencils were pre-production sketches and were made into final product. This was all done before computers!
Like most Disney Studio drawings, these are unsigned, but have the Disney pre-approval rubber stamp common at the time. Each drawing comes with a letter of provinence from the art director who concepted and created the final products each of the drawings were created for. In addition, you'll also receive a sample of the finished product each drawing was used in. Each original drawing is framed and matted in a red-black color combination.
These are one-of-a kind drawings and don't exist anywhere else. Photos are of of actual item. Climate controlled storage and minimally handled. Sold as is.
1 in stock
Here's some other cool stuff you might like...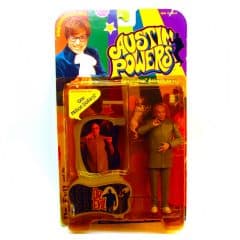 1999 Austin Powers Ultra-Cool Talking Action Figure Dr. Evil and Mr. Bigglesworth in Package
Year: 1999
Manufacturer: McFarlane Toys
Condition: Mint condition
First edition vintage collectable
It's Austin Powers arch villian Dr. Evil in a rare orange tinted blister package. The first movie is now over 20 years old and original figures are becoming more and more collectable. This package features a 6″ tall Dr. Evil and his cat, Mr. Bigglesworth. Comes with a money packet labelled '$1 million'. Dr. Evil says his most famous catch phrase, "One million dollars!"
The package is in very good condition. The upper right corner has a small scratch on the front, a wrinkle in the cardboard about an inch long on the back, and there is slight shelf wear on the bottom corners, but overall it's in really good shape. Austin is about 6" tall, and in his original packaging, which is in mint condition. Mike Meyers provides the voice, which is in the base. The tab has never been pulled.
Photos are of of actual item. Climate controlled storage and minimally handled. Sold as is. Only one available.
$

59.00
Add to cart