1985 Nabisco Animal Crackers Inflatable Gorilla in box
$30.00
Year: 1985
Manufacturer: Frenry
Condition: Mint condition inflatable
First edition vintage collectable
This is a rare combination of licenses from the 1980 combining Nabisco, the manufacturer of Animal Crackers, and Barnum Circus, The gorilla measures appx. 14" tall when inflated. It's packaged in the original box with the Barnum name. The box measures 6.75" x 2.5" with a backer card that measures 10.25" tall. The box has a few creases across the the top of the card, but otherwise in great shape, and includes the original ribbon "carry strap" built into the box as well as the original price tag. Also includes a booklet showing the other inflatables in the series.
Photos are of actual item. Climate controlled storage and minimally handled. Sold as is. Only one available.
1 in stock
Here's some other cool stuff you might like...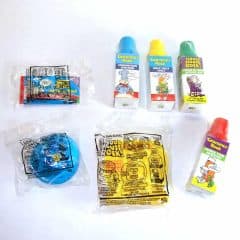 1998 Schoolhouse Rock Kids Meal Toys Complete Set of 7
Year: 1998
Manufacturer: Long John Silvers
Condition: Mint condition
First Edition Vintage collectables
Everyone remembers Schoolhouse Rock, the enduring educational children's series. First appearing in 1973, the series continues to be popular today. This is the COMPLETE SERIES of vintage Schoolhouse Rock toys included in Long John Silver's kids meal program over two decades ago. The collection is filled with lots of memorable Schoolhouse Rock lessons, including Conjunction Junction (what's your function?) Interplanet Janet, Lolly Lolly Lolly (get your adverbs here!) and much more.  These are original items from the personal collection of the designers who created the toys for Long John Silvers. All items are sealed or shrinkwrapped in their original packages in great condition. Vintage Schoolhouse Rock items are very collectable and this is a hard to find rare complete set.
Photos are of of actual items. Climate controlled storage and minimally handled. Sold as is. Only one set available.
Set contains all this:
America Rock – Animated Flip Book with Crayons
Computer Rock – Mr. Chips Computer Quiz Machine with 2 rotating quiz cards
Science Rock – Inerplanet Janet Crayons and Earth Templates
Grammer Rock – 4 Coloring Rolls with Crayons and Sharpener with embossed Schoolhouse Rock logo. A total of 16 feet of artwork!
– Conjunction Junction
– Unpack Your Adjectives
– Lolly Lolly Lolly (Get Your Adverbs Here)
– Interjections
$

44.00
Add to cart